One of the most exciting aspects of our recent move into the Mahoning Valley of Ohio, is our ability to expand our Boardman team and provide authorized service for clients with existing HP, Ricoh and Sharp devices.
We now have over 45 dedicated field service and network engineers. This includes two certified service trainers for Ricoh, two certified service trainers for Sharp and one certified service trainer for HP. What this means is we are constantly holding training certification classes each week to keep our entire team up to date and cross-trained across all three manufacturers.
Our timing could not be better to bring our service power to client's in Ohio. COVID-19 has turned many office equipment service providers upside down and they are currently not able to provide quality levels of service or even any service at all.
We are proud to have remained open and fully operational during this entire pandemic. You can see our Net Promoter Score for the. month of April is actually 100. This means we achieved 100% client satisfaction on over 900 total service calls.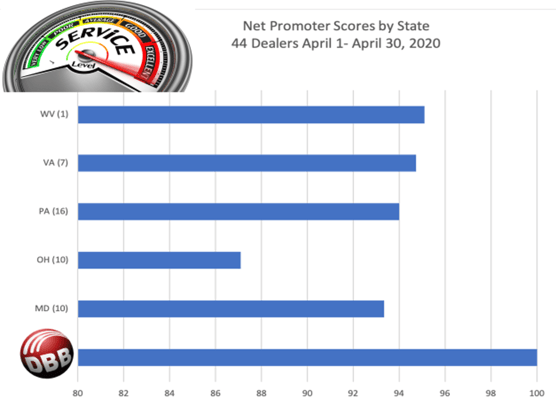 If you would like more information, you could read our blog about Net Promoter Scores.
So, if you are experiencing increased downtime or are even being told you are not eligible for service, please CONTACT US immediately. We are happy to help and serve you.
If you haven't read our other blogs on Do I have to fill out this survey? and Why Net Promoter Score is a significant factor in choosing your office equipment service provider, we encourage you to do so. We also have information regarding our safe and secure practices to prevent and protect from COVID-19.
Our best customers are educated customers.