We have been a subscriber to CEO Juice and Satmetrix since August of 2011, utilizing their Net Promoter Score (Customer Satisfaction Survey) to guide us and focus us to continuously be improving the level of our customer service experience. Customer Service Excellence is not just a hashtag for us, it is our way of life.
For the first time ever, CEO Juice has announced the National 2019 Award Winners. You can read about how they are an unbiased, third party who remotely manages this for 320 office equipment service providers in the United States, here.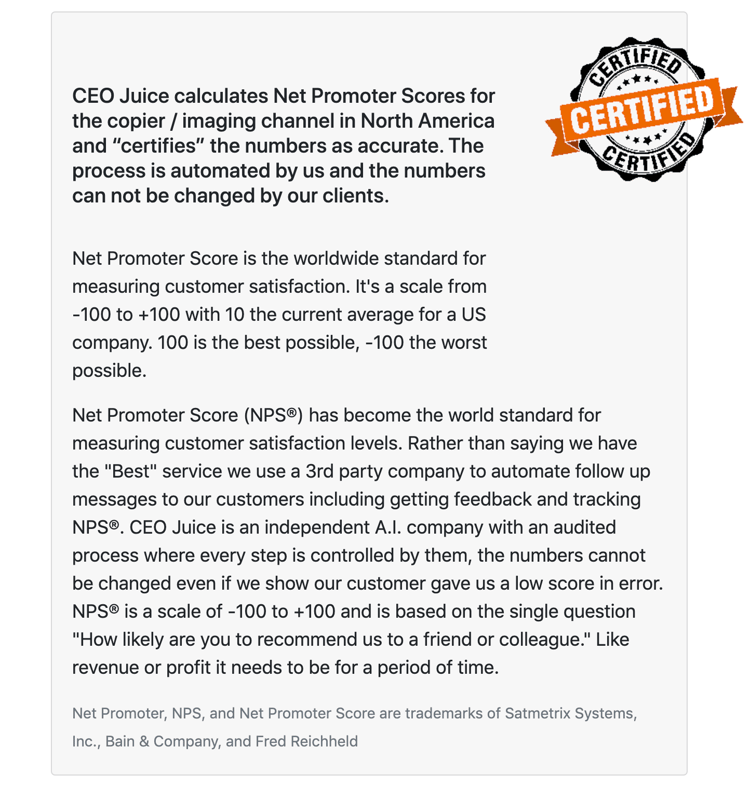 SO WHY IS THE BIG DEAL?
Well, not only did we make the World Class Service list for 2019 but we also made the Top 10 List.
We are so proud of our team and their commitment.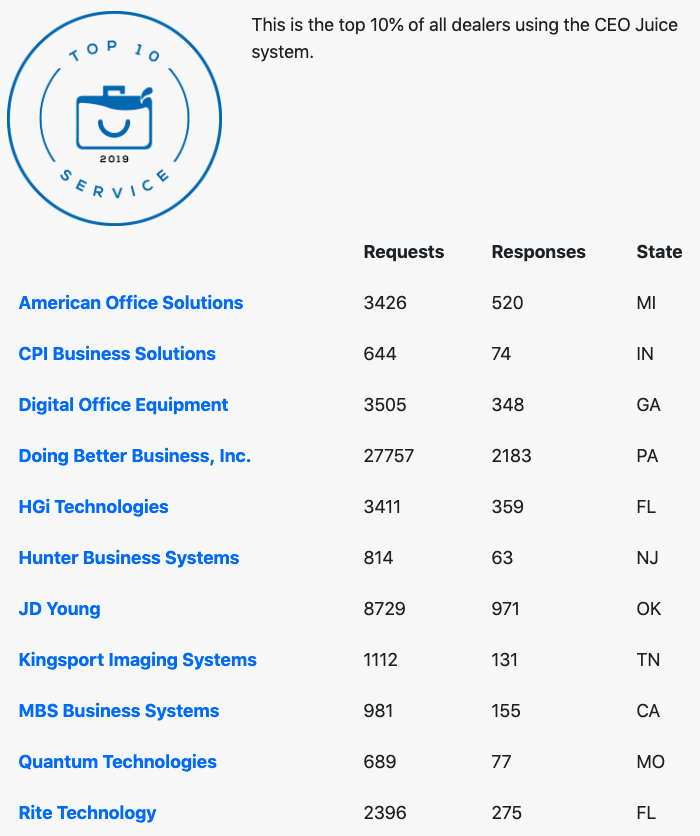 Before you click off this blog to read more about CEO Juice and the 2019 awards, we would like to point out that we have the highest number of survey responses on the list. (We know, no one likes a braggart.)
WHY IS THIS A BIG DEAL?
Well, Satmetrix also measures the Net Promoter Scores for some of the World's largest companies and they define World Class Service as a score of 70 or higher. To make this year's Top 10 List, you had to have a score of 96.31 or higher. Let's take Apple, who receives the highest marks in their industry with a score of 70, from over 3 million responses. If you look at the World Class Service list, you will see there are several other providers who received similar amounts of surveys or even higher than we did. Those providers did not make the Top 10 list.
And, just in case you are wondering, there are currently 2,442 office equipment service providers in the United States and only 320 even bother to measure their customers' satisfaction. Of those 320, there are 20 in Pennsylvania, 9 in Maryland, 8 in Virginia and 1 in West Virginia.
If you haven't read our other blogs on Do I have to fill out this survey? and Why Net Promoter Score is a significant factor in choosing your office equipment service provider, we encourage you to do so.
Our best customers are educated customers.