If you have access to a multi-functional copier/printer, which I will refer to as a device, you can most likely produce professional looking booklets. Like any project, a little planning can make a big difference. For optimum quality and ease of production, utilizing a device with a booklet finisher is strongly advised but not absolutely necessary. A booklet finisher is a great asset if you want to produce medium to large quantities of booklets.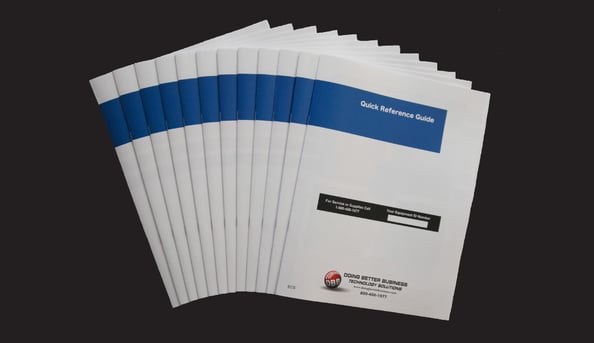 When creating your document, you will naturally want to consider the finished size of your booklet. Even though your device will have the ability to enlarge or reduce, you may experience issues with appearance if you use this. To understand this, let us first consider what the device can do to help you.

The device will take the pages you have in a normal 1,2,3,4, etc. sequential order and place them in the correct position when the paper is folded to produce a booklet. This process is known as imposition or creating printers' spreads. The order depends on the number of pages you are producing and whether you are printing on any of your cover pages. Booklets should be built in multiples of four pages, or blanks will be inserted by the device to accomplish this. To understand this process better, refer to the illustration of an eight-page booklet below. This example shows an even eight pages that print on the inside and outside of both covers.




With the device having this capability, you do not want to create the printer spreads while designing the booklet. Instead, you always should work in a single-page or reader spreads format. You also want to keep in mind that you will print on paper that is twice the size of your original. As an example, if you want the finished booklet to be 5.5" x 8.5", you want to use this size for your layout and then print it on 8.5" x 11" paper. As I mentioned before, the device will be able to enlarge or reduce; however, if you reduce 8.5" x 11" pages to print a 5.5" x 8.5" booklet, you will experience a large margin at the top or bottom of the pages. This is due to
reduction being disproportionate in the x and y directions. The device will reduce to the minimum percentage to avoid clipping your image, thereby leaving a large margin in the opposite direction.

Once you have your document prepared correctly and you are ready for production, keep in mind that printing all the quantity is better than printing one and then copying the document. A copy is a second-generation image and during the scanning process the quality may degrade. When you print, make all of your settings in the device's driver, not in the application. To get to the device driver on a PC you usually need to go to Printer Properties once you have chosen the device. With Macintosh, look for printer features. Important details to check for are: load paper in a landscape fashion if you have a finisher, make sure you have the original size and the "print on" paper size set correctly, choose booklet or pamphlet, staple two at center with a booklet finisher, and choose the cover stock you would like to use if it is different from the text of your booklet. Some devices may need to be set to print or not print on the cover. This feature allows users to collate a preprinted cover onto booklets when needed.

Utilizing a booklet finisher is the easiest way to produce a high quality booklet that is ready to use. If you are fortunate enough to have a large production device, you may even have the ability to automatically trim the front or face of the booklet. This is especially nice with thick booklets where the inside pages push out, taking away from the appearance and making it difficult to thumb through a booklet.
If you don't have a finisher at all, you can still output the booklet, fold and staple by hand. Several manufacturers offer low-cost manual and
semi-automatic staplers for this task, and they are easily found online.


Contact a representative from Doing Better Business if you would like more information on booklet printing.