We are currently experiencing delivery delays due to world-wide supply chain disruptions resulting from COVID-19 related labor shortages, unprecedented shipping volumes and a recent fire in a chip manufacturing plant in China. These disruptions have mainly impacted A4 equipment availability.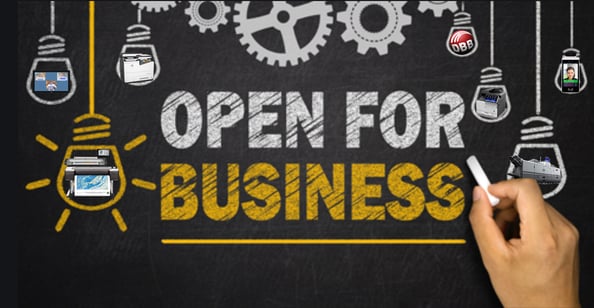 However, due to continued vaccinations and reduced restrictions in each state we operate, we are excited to report that many of our DBB family have returned to the office and all seven of our offices are now open and ready for business.
We are so proud of our DBB Family for how they performed during the COVID-19 crisis. Please know that our team will continue to honor any COVID-19 rules your business has in place and we ask that you respect our individual team members' wishes if they want to continue to wear a mask.
When visiting your location, our Service Technicians will continue to clean your machine prior to working on it, and they will clean it prior to their departure for the health and safety of your employees. Along with their large stock of parts on board their vehicles, our Service Technicians also have a kit of cleaning supplies to ensure they leave your devices as clean as possible. Service Technicians use many different cleaning techniques and tools including rubbing alcohol, lint-free cloths, canned air spray and vacuums.
If you require supplies or service, please call (800) 456-1977 or email firsttouch@doingbetterbusiness.com
Unfortunately, our after hours service program has not been reinstated at this time.
Our focus continues to remain on meeting the needs of our clients, while keeping our employees, our clients' employees, their families and our communities safe. This situation continues to evolve, please understand we will be making changes as necessary. Please check out our other blogs on the options available for work-from-home equipment and other helpful tips to keep your business running safely and efficiently.
You can also read more about supply chain and shipping issues in this recent blog.
Please follow us on LinkedIn, Facebook and Twitter for news and updates.
We truly appreciate your business, and we look forward to continuing to provide you with #customerserviceexcellence. Please be safe and #stayhealthy!