NPS stands for Net Promoter Score which is a metric used in customer experience programs. NPS measures the loyalty of customers to a company. NPS scores are administered by a third, unbiased party with customer satisfaction surveys and reported with a number from -100 to +100, a higher score is desirable.
See our blog on Do I have to fill out this survey?

Respondents give a rating between 0 (not at all likely) and 10 (extremely likely) and, depending on their response, customers fall into one of 3 categories to establish an NPS score: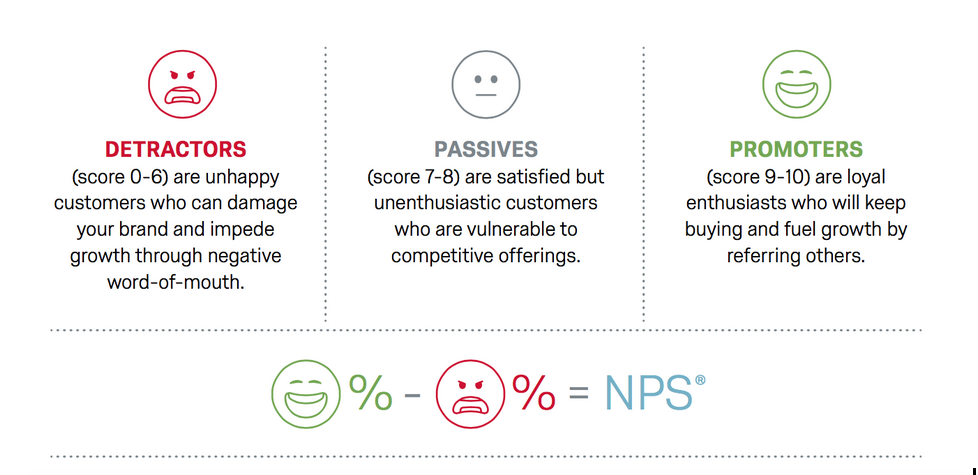 Promoters respond with a score of 9 or 10 and are typically loyal and enthusiastic customers.
Passives respond with a score of 7 or 8. They are satisfied with your service but not happy enough to be considered promoters.

Detractors respond with a score of 0 to 6. These are unhappy customers who are unlikely to buy from you again, and may even discourage others from buying from you.
For example, if 10% of respondents are Detractors, 20% are Passives and 70% are Promoters, your NPS score would be 70-10 = 60.

If you are not currently our customer and are researching for a new service provider, make sure you look for a company who is utilizing NPS. Ask to see their actual report. It should look like this: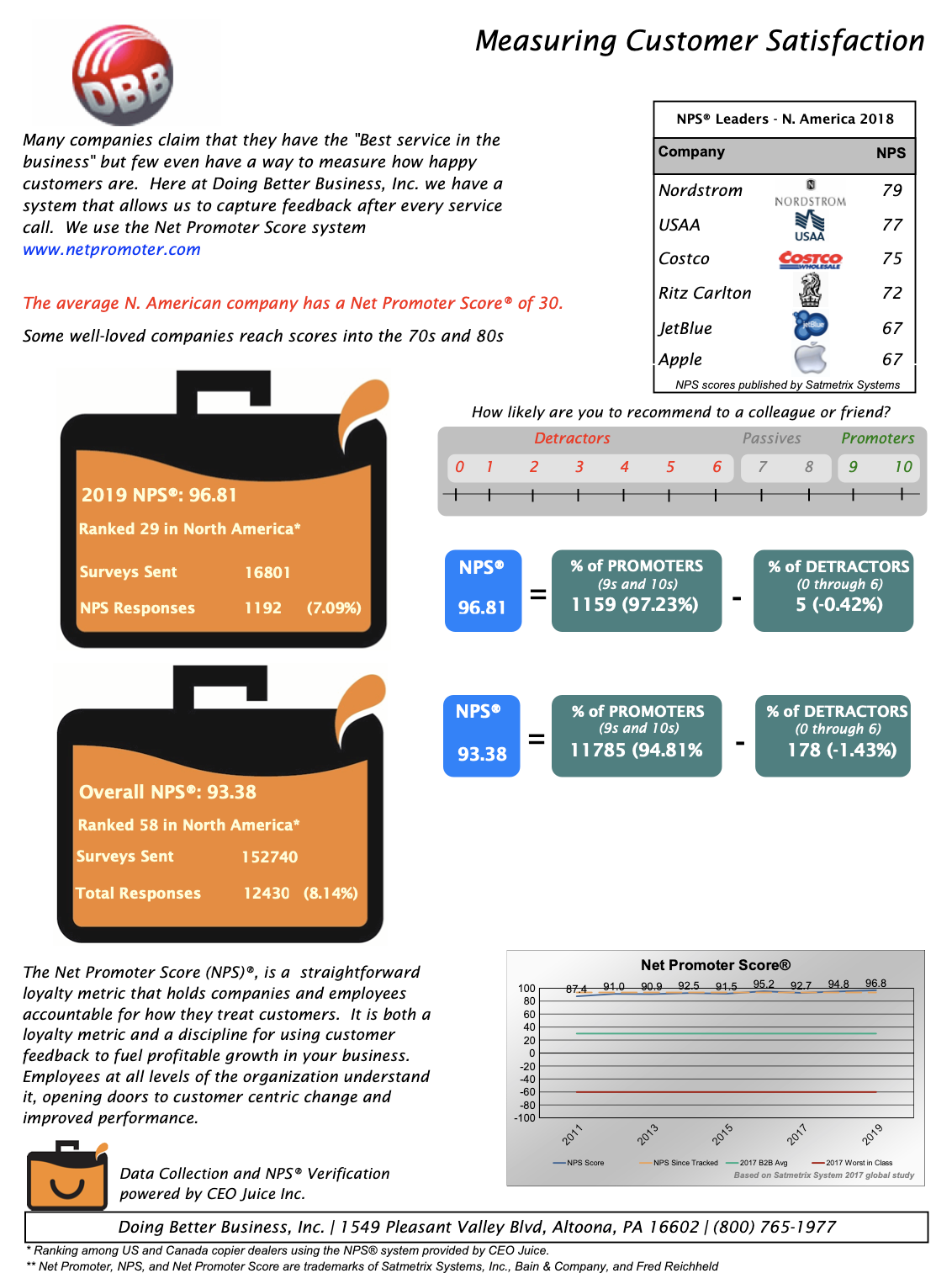 and will show the annual and lifetime scores. It will also show the number of surveys sent and received. This is an important component to consider when comparing a company with 20 responses versus a company with over 1000.
Another important thing to ask to see are some actual customer surveys.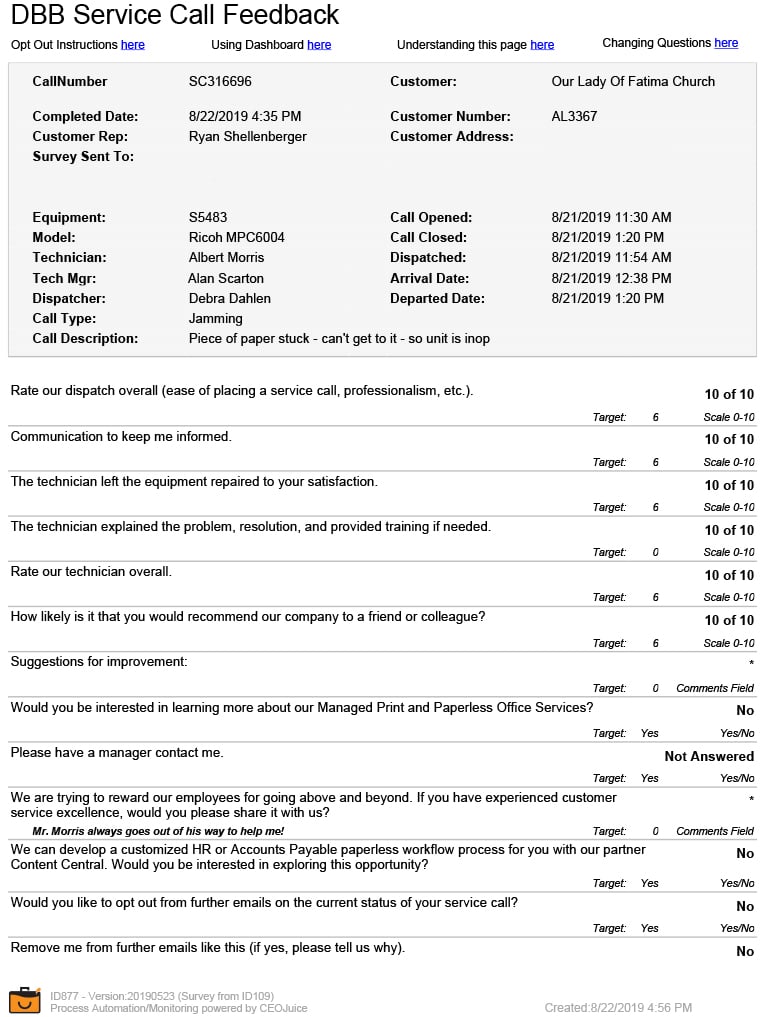 These clearly show true response and repair times, which is great way to validate any salesperson's claims regarding response and repair times.

The office equipment industry average NPS Score is 88.65

The average score of the 9 dealers participating in Maryland is 90.00
The average score of the 18 dealers participating in Pennsylvania is 91.70
The average score of the 7 dealers participating in Virginia is 89.63
The average score of the 1 dealers participating in West Virginia is 93.47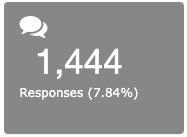 Our score from January 1, 2019 to August 28, 2019 is 96.8 calculated from 1,444 survey responses.
We have also had great success in utilizing NPS to improve and measure our customer service. Our entire management team reads every survey.

We filter the feedback and suggestions to our Process Improvement Committee. Many great improvements have come from our customers' suggestions.

We also reward our team members who receive positive scores and comments using our YouEarnedIt application. We have received so many positive comments regarding our team members that we decide to launch the #lovemytech campaign on Facebook and Instagram.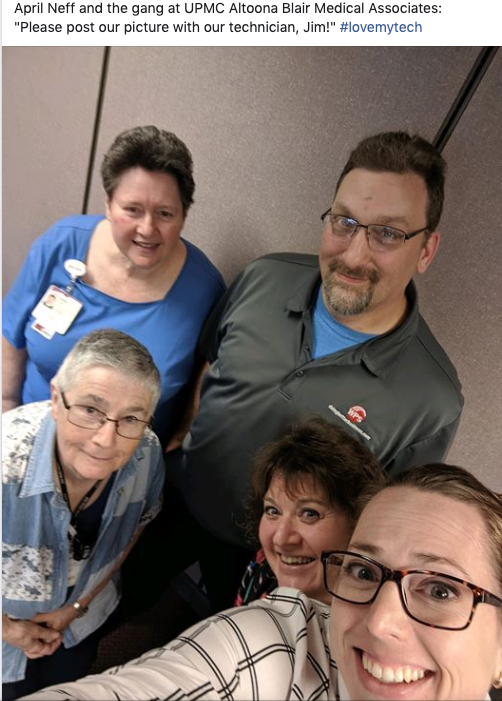 It may seem silly but the reality is copiers and printers require service and when they are not working properly, it can be very frustrating and can sometimes turn into a crisis for your business or organization.

If our technicians have saved the day, let's reward them with a quick selfie and post, tagging @DoingBetterBusiness and the hashtag #lovemytech

We are going to reward the technician who receives the most posts and we are also going to randomly draw and reward the office who posted with some nice treats from Teraberries.