As the name implies, inkjet copiers/printers use a liquid ink to produce an image. A laser copier uses a dry powder called toner to produce an image. These two materials are also applied to the media via different processes. The inkjet uses an array of micro nozzles to spray the ink onto the media where it dries. The laser process uses a series of static charges to transfer toner to the media and then applies heat to melt or fuse the toner to the surface of the media.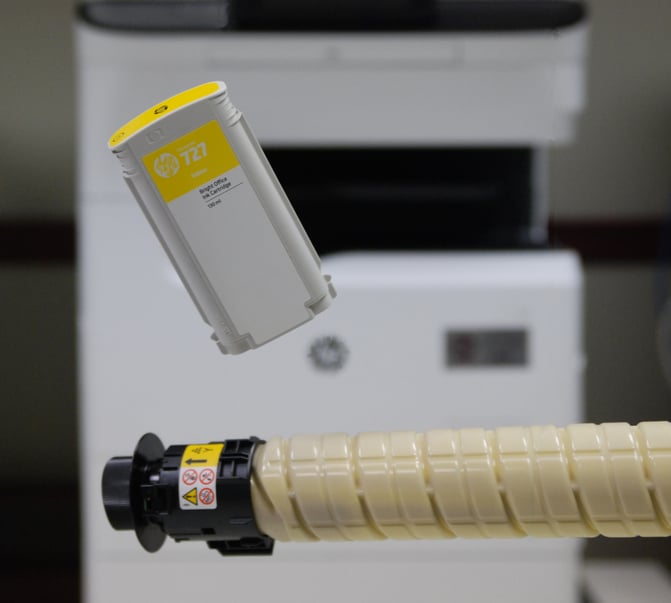 Before we go any further into the differences, advantages, and disadvantages of both types of devices, I would like to clarify that we will limit this information to devices used in the general office realm where common papers are used as the media. This is due to the fact that both technologies have other applications and inkjets in particular, are very versatile at applying an image to different media or substrates for a wide variety of uses.
Inkjet devices are typically offered at a lower initial cost than laser and this is especially true of color capable devices. Inkjet printers are usually more compact and not as heavy as laser devices; therefore, they may work better in certain environments. In general, inkjet devices use less energy because there is no heat needed to fuse the image onto the paper. Inkjet devices come in two very distinct classes, and at the time of writing this, the majority of devices in use are ones with a movable print head. If you have seen these in action, you are familiar with the sound and the shaking of the printer. Over the last several years, pagewide devices have made it to the market and they offer major advantages with greater speeds and fewer moving parts. This is possible because the print head does not move, and as the name implies, the print head is as wide as the page.
The lack of speed can be a major disadvantage with an inkjet unless it is a pagewide type system which can be as fast as comparable laser devices. Another important factor to consider between inkjet and laser is the cost to output a page. Beyond fine wines and perfumes, the ink for an inkjet device can be one of the most expensive liquids man has ever made. For this reason, you should always consider what volume of copies/prints you will need. If you anticipate small quantities, the low acquisition but high cost per copy formula may work. However, for large volumes, it is often better to pay more for the device initially to achieve a lower cost per copy. With this in mind, it is typically better to use a laser device for larger volumes. Not that it is necessarily a disadvantage of inkjet, I must touch on image quality. While image quality is sometimes subjective, there can be a wide difference in color images made on inkjet and laser devices. This is especially true when you are looking for color accuracy. If accuracy is high on your list when evaluating devices, I suggest that you compare print samples from the devices using the same test file and paper type. This leads me to a pro tip - the type of paper used can have a major effect on the print quality and color accuracy of your project.
Overall, laser devices have traditionally been suggested for higher volumes of work due to speed advantages and the typical lower cost per copy. The advent of pagewide systems and other improvements to inkjet devices are changing some of this, but there are still other factors that give laser devices an edge at this point. Most manufacturers offer a wider range of laser devices based again around speed and capabilities. While inkjet devices may catch up, laser devices have a broad range of finishing options like in-line folding, specialty punching, booklet making, and are capable of handling heavy papers.
An objective evaluation that considers print volumes, functionality, quality, and total cost of operation is the best way to decide which type of system will be suitable for your needs. For help on evaluating which will be the best for you, contact the experts at Doing Better Business today.