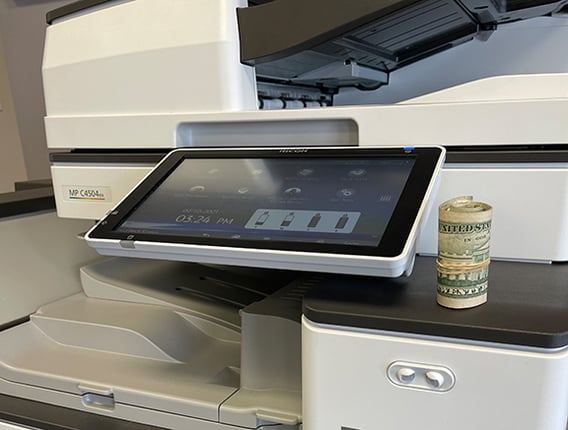 No one gets more frustrated than when someone responds to this question with "It depends." Copier and printer pricing varies much like automobiles, because there are lots of options. We will try to make this answer as simple as possible.
You can certainly get a device for under $400.00 and all the way up above $50,000 for production devices. Why is there such a wide range of pricing?
The first variable is mono versus color. Mono devices are going to cost less than devices printing and copying in full color. The next variable is paper size. A4 devices will not print wider than 8 1/2 x 11, so you are limited to letter and legal size paper. A3 devices will print up to 12 inches wide - allowing for ledger size paper. Each of the variables will step up the price of the device.
A mono printer A4 printer only is going to start at just under $400. As you start to add features like copying, scanning, and faxing, the price will go up. Another variable is ink versus toner. A full color device that prints with ink will be less expensive than toner. We offer full color devices that start out just under $500. Visit our new eCommerce Portal.
These starting price devices are generally meant for the home office or very small office with low amounts or volumes of actual printing.
When we look at the average price of a true office or workgroup A3, laser copier/printer with full color capability, multiple paper drawers, auto-duplexing and finishing stapling capabilities you are going to spend or finance approximately $6,500. We say finance because when you get above $3,000, it is probably best to consider leasing instead of purchasing. You can read about leasing:
Print speeds will take that pricing up and down. The faster the print speed, the more the pricing increases. This is also the same with the throughput capability of the device. Usually, speed and volume go hand in hand.
Another factor in pricing is whether you qualify for a group purchasing program. There are programs from many manufacturers available for non-profit, education, government, ministry and even some commercial groups. You should always ask to see if you qualify for these significant discounts.
You may want to read our blog about which is the best copier, by Clicking Here.
If you would like to download our Office Equipment Buying Checklist,