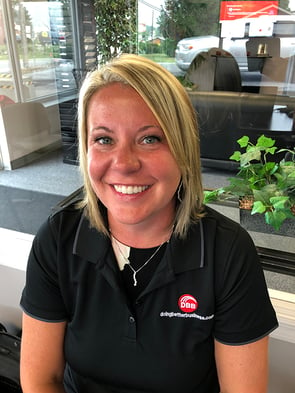 A new addition to our Account Management team, Jen Lechner, was a school teacher at the Glendale School District in Pennsylvania for the past 14 years.
On her first day we decided to get her reviews on our products from an untrained, unbiased perspective.
We first asked about her experience with the current copier and vendor at the school district: "The copier was an older refurbished Toshiba. It was strictly for black and white copies and the quality was never good (our copies had shadows and streaking ). It wasn't overly fast either. I would guess that it did 20 copies per minute, which felt like an eternity. It was only used for simple one sided and two sided copies. I also remember that it was serviced constantly and we would sometimes go several days before the technician would come. The machine jammed frequently."
Then we had three different machines lined up in the demo room for her to use: The Ricoh MP C6004, the Sharp MX-3071, and the HP MFP E77650.
Here are Jen's reviews:
"As I was testing the machines, I thought back to how I used the copiers when I worked at Glendale School District.
Ricoh
The machine was similar in size and shape to the copiers the teachers had access to use however, the secretaries had a different copier in the office.
Black / white and color features were there but teachers didn't have access to that function, only the copier in the office had this option.
The touch screen was large and easy to use for creating a simple copy but had too many options for what a teacher would need. The office secretaries would use functions like scanner, address manager, fax, etc.
Overall, wonderful product with so many amazing features but a teacher would never use them all and the secretaries might only use some of the features.
Sharp
Another great machine but the touch screen had too many options for what a teacher would use. The keyboard is cool feature but not sure how often it would be used in a school setting. The print quality seemed to be similar to the Ricoh except in the area of the DBB picture logo. The Ricoh picture was more crisp and the Sharp picture did not have the smooth clear lines.
Ok machine but as a teacher it didn't seem to stand out.
HP
I LOVE THIS MACHINE!!!! The touch screen was simple and easy to navigate. Also, I loved the option to view what exactly the copy would look like before actually printing. This would be very beneficial to a teacher especially when their copies are counted per person. You wouldn't want to make mistakes, waste copies, and waste paper. The other options like Scan, Print and Fax appeared to be simple for a teacher to use if they had access to using these functions.
If I were to recommend a copier that is "teacher friendly" to a school district, this would be the machine. The other two machines are great products but they might be a better fit for a secretary, principal or for general office use."
We hope this review helps if you are currently evaluating copier brands for your school district.