The entry cost and operating cost of wide format printing has never been lower. Organizations can take control of their own marketing, both external and internal, for as little as $100 per month. Because of this, large format printing is an advertising medium that has been growing in popularity.
As the name suggests, its main purpose is to support maximum print roll width. The beauty of this type of printing is it gives you the luxury of a bigger area to work with. Large format printing can function as banners, posters, wallpapers, murals and more. They are ideal for materials that have visual or graphic-heavy designs. Their wide images and texts make big format prints effective advertising tools. They create more impact and attract customers better than normal-sized materials.

There is a fantastic array of capabilities when it comes to wide format printing technology. For example, the ability to print on different surfaces and substrates, and the ability to use specialty inks to produce amazing visual effects. The ability to print on surfaces from 2 feet up to 6 feet wide. The uses of wide format devices are practically endless. Traditionally, wide formats would be used in Architecture, Engineering, Construction, Product Design, Mapmaking, and Manufacturing. In recent years the cost of acquiring wide format devices has decreased substantially and the operating expenses have become very affordable. Many in-house marketing firms, retail stores and even restaurants are using wide formats for printing customer advertisements, posters, vinyl banners, signs, trade show graphics, custom wall murals, in-house promotion and employee acknowledgements, and much more.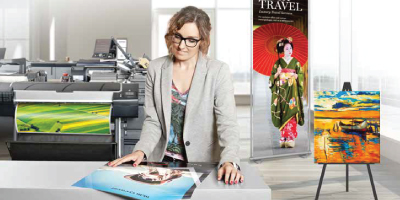 Marketers, photographers, and other creative professionals have used wide format imaging devices to create vibrant and attractive visual documents for years. The availability of wide format output at the consumer level is opening the door to companies using print as an alternative to traditional advertising for small businesses. Instead of spending $2,500 on a yellow page advertisement, as little as $100 per month would enable a storefront business to put up a new promotional or advertising message in its front window once per month and leave plenty of money for social media advertising. In an age where it is more difficult to gauge the effectiveness of advertising expenditures than ever, the impulse buy driven by point-of-purchase signage is stronger than ever.

Wide format graphics ink jet printing is entering its second decade of commercialization and is belatedly being discovered by commercial print-service-providers. Wide format ink jet printers historically didn't fit the business model of a commercial printer: they were not very productive, order volumes were small, and frankly it was not a product they believed should be part of their portfolio. Fast-forward a decade; competition continues its relentless march towards devaluing prices and commercial printer profits have shrunk to the low single-digits.
Low cost, high quality capability is a necessity in today's competitive market. For a typical $2 million annual revenue commercial printer, even selling as little as five wide format prints per day, can add up to 4% to their annual profit. For many of that size commercial printers this may well double or triple their annual profit.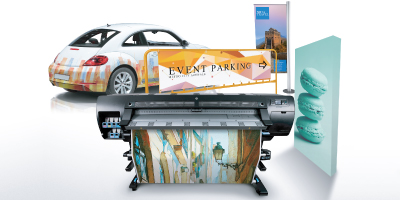 The emergence of HP's PageWide XL series has made wide format production more affordable than ever. Organizations can see total production cost savings of up to 50% while enjoying printing at breakthrough speed, up to 30 D/A1 pages per minute. What's truly amazing is that quality isn't sacrificed. The HP PageWide XL provides crisp lines, fine detail, smooth grayscales and vibrant colors.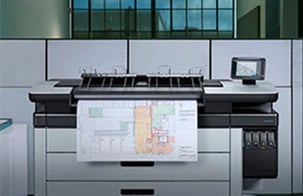 With today's large range of wide format products, there is always an affordable, productive unit that can fit any office and budget. From the home office, to the design studio, and all the way up to professional production environments; these devices are becoming an essential resource to just about every company and shouldn't be overlooked.
For help on evaluating if large format printing will benefit you and your organization, contact the experts at Doing Better Business today.