Known as the Razor Blade Strategy, you sell a low priced product tied to a higher priced consumable item that is needed on an ongoing basis. This was HP's (Hewlett-Packard) Printer Business Model for many years and many desktop printer manufacturers followed right along. For the Managed Print Services (MPS) Providers, these were easy targets to be able to save customers thousands of dollars.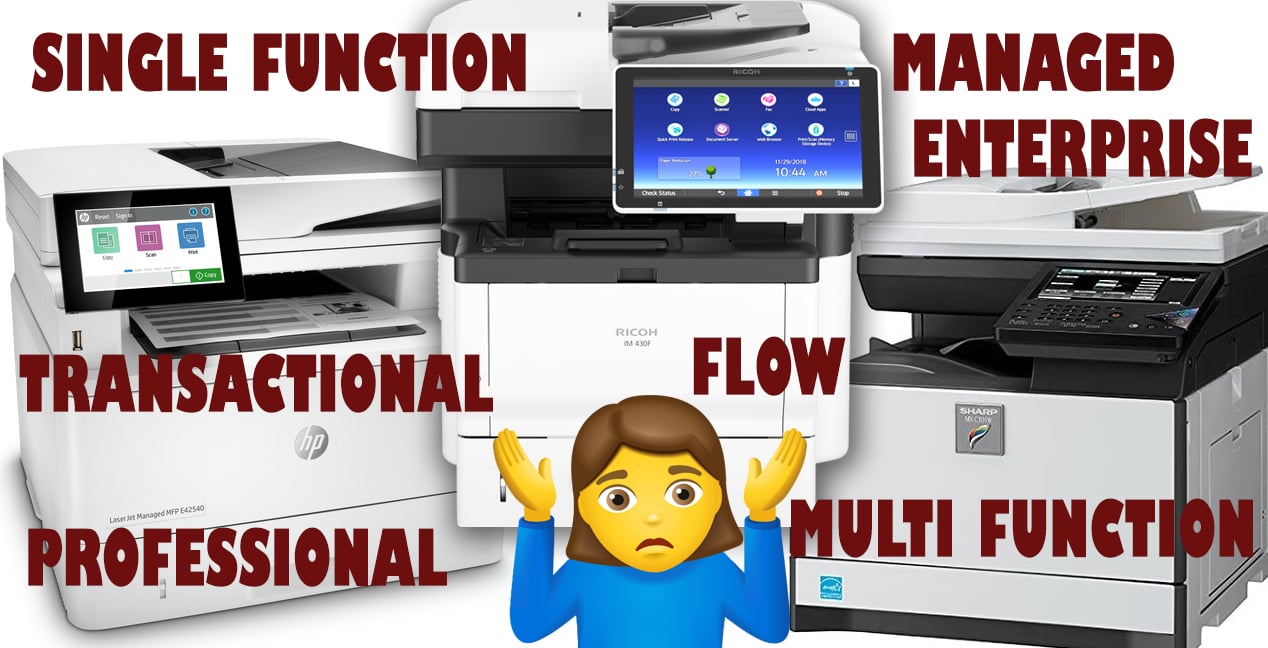 So, why are people still buying printers and now multi-functional devices in the razor blade model?
Let's first define all these terms.
Single Function: This is a device that only performs one function. Usually, referring to a printer but it could still mean a stand-alone fax machine or scanner.
Multi Function (MFP): This is a device with many functions. It can scan, copy, print and sometimes fax.
Transactional: A device sold directly to end customers. (Razor Blade Model)
Managed: A device sold via a Managed Print Services Provider covered by a contract for service and supplies.
Enterprise: A device designed for enterprises (>1,000 employees).
Professional: A device designed for SMB (small, medium business with 10 - 999 employees).
Flow: A device with enhanced features that optimize it for customer workflow optimization (optimized for scanning, speed, duty cycle, and workflow integration).
96% of Traditional Copier Clients have a maintenance agreement on their devices.
There was a time when many offices had stand alone photocopiers and stand alone printers - both single function devices. The photocopiers were and still are highly service intensive. The printers were not service intensive. Enter the digital age. The photocopier has morphed into the ultimate multi functional device and is now literally, a business server on your network. Most customers understand the need to have a managed services agreement (maintenance agreement) on this extremely important device to their business' operations. However, those same customers continue to have multiple single function printers throughout their organization, which they continue to purchase using the transactional model.
Managed Print Service (MPS) Providers have only made a dent.
For the last 15 years, MPS Providers have been working hard to educate customers and reduce the amount of single function and transactional devices from their network. As mentioned, the savings can be enormous. Changing old habits and way of doing business can be difficult. The appeal of a very low price and a click of the button on the internet, can many times outweigh a conversation and proposal process with your current provider.
Understanding the real differences between transactional products and managed devices will end up saving your organization in the long run.
Yes, managed devices will have a higher initial price tag but the cost to print will always be lower. This is because of higher yielding consumables that are available only through the MPS Provider and a longer life cycle for the actual device.
Other benefits include more robust features, enhancements and security. Security should be a key consideration in any technology purchase today. Every day we read another headline about a company's server being breached costing them customers and many times significant amounts of money. Transactional print devices have very limited security and are an easy way to breach your network.
When you purchase a transactional device from the web, you will be required to set up and install the device on your network. It will include the manufacturers standard warranty but these never include consumable items or onsite repair. These warranties require you to ship the device back for service. Many of the big box stores, will provide an onsite service package for an additional price, at which point the gap in pricing compared to a managed device from a local MPS provider becomes very narrow. You may want to read our recent blog about the actual costs of copiers, printers and multifunctional devices, HERE.
We understand choosing the right printing or multifunction device for your office can seem daunting with so many options, models, and manufacturers offering a wide range of features and price points. To get help narrowing down your selection and choosing the perfect managed, multifunction device, contact the printing equipment experts at Doing Better Business today.