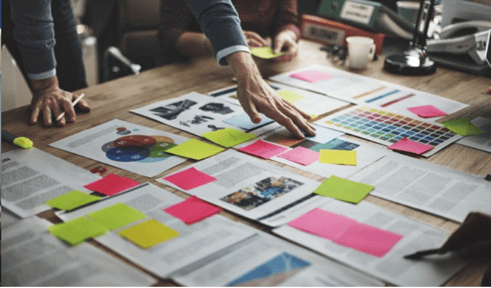 Industry analysts are constantly writing blogs and articles declaring Print is Dead. However, for Marketing Agencies and In-Plant Print/ Mail Rooms, growth of printing is projected at 12.6% over the next five years.
4 Essential Requirements
Every business relies on high quality printed materials to sell and market their services. The better the quality of those materials, the more clients they will attract. There have been countless studies and you can read more about the need for printed marketing materials, HERE. This article is concerned with the 4 essential areas required for a device to deliver those high quality printed materials to help you attract and retain more customers.
Exceptional media handling
Being able to print on a wide range of media is critical to your marketing success. To stand out from the crowd, you may want to print on synthetic, textured and coated paper stocks of varying thickness. In addition, a wide variety of sizes is required, from business cards to impressive posters, printed tab inserts, book wraps, panel mailers, full-size tri-fold brochures and banners. All with the ability to print on both sides of the paper, even if it is a heavier stock.
Professional finishing
Many organizations are looking to reduce waste by creating and producing short-run booklets, directories, user manuals, and exam books in house rather than ordering large volumes from a commercial printer. The ability to saddle stitch, hole punch, fold, bleed trim and bind are now common options. You will want to review the number of pages and paper weights limited in each of these options. Each option has a number of subset options - especially folding and hole punching. There may be half, tri, gate, double parallel and Z- fold.
Performance and productivity
Heavy paper weight productivity is key in this category, not to mention, the ability for high speed scanning. Look for high paper tray capacities to reduce the amount of human intervention. Color matching software and job building and bundling software will help streamline job setup and offer the ability to store custom profiles. End to end solutions for Web-to-Print and variable data, allow you the time and ability to take on more jobs at a faster response rate.
high image quality
As mentioned earlier, the quality of your printed materials should match the quality of your company or organization. This is a reflection of your image and service capabilities. You will want to look for true to life color with the most vivid images and crisp text. There are devices on the market now with pixel image density of 4800 dpi. Several other image enhancements are lower melting point temperature toners, precise front to back alignment with accurate registration and color consistency, and user adjustable fuser pressure for more reliable media handling.
Exceeding customer expectations
Whether your customers are internal co-workers or external clients, you will want to wow them with precise registration and the ability to match more colors.
Finding the right light production print device for your organization will allow you to keep more work in-house and remain a vital resource to your team and clients. The more applications, media and finishing options you can offer, will give everyone the opportunity to explore their creativity and fully execute concepts.
Let Doing Better Business help you find the perfect device for your needs.
Doing Better Business provides professional printing devices that are ideal for all types of printed marketing materials. Our expert staff understands the need for professional, high-caliber color that is affordable, easy to use, requires minimal maintenance and will enhance your productivity.
Contact Doing Better Business today to discuss raising your game!