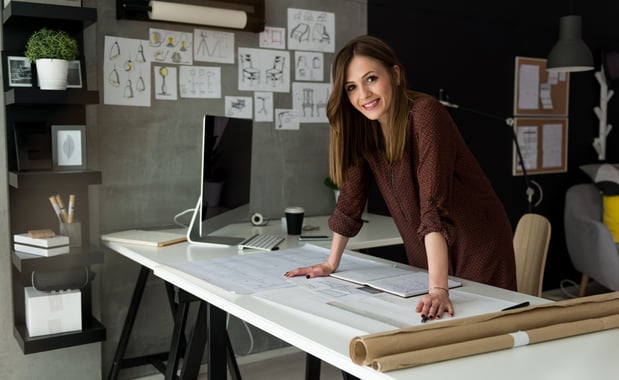 In this age of online marketing, social media marketing, and email marketing, does your business still need printed marketing materials? The answer is most definitely yes. There are several good reasons why small and medium-sized businesses find that print collateral remains beneficial in attracting new customers.
6 Reasons Why Your Business Needs Printed Marketing Materials
Savvy businesses can print marketing materials to both stand out from the competition and leave a lasting impression on potential customers. A survey conducted by FedEx Office found that about 85% of consumers stated that they would be more likely to do business with brands that have some form of professionally printed marketing materials, such as signs, flyers, and business cards. Here are six reasons your business can benefit from printed marketing collateral.
Print Makes a Physical Impression
Printed marketing materials are tangible and make a physical impression on consumers. There is no denying that print is more substantial, less ephemeral than digital. When something is printed, it somehow feels more important, much like a physical piece of mail carries more importance than an email.
Printed Materials are Permanent
Print collateral makes a physical impression because it is a physical document. Unlike digital marketing materials that vanish when the customer clicks to the next page, printed materials stay in homes and offices for weeks, months, even years. This provides a long-term benefit not available with other media.
Printed Documents Have Authority
Putting something in print gives it a kind of credibility or authority that messages in other media lack. Just as a printed certificate is more credible than an online award, printed materials are more credible than digital collateral.
Certain Printed Materials Can Build Relationships
Since print collateral is substantive, it helps build relationships with customers. When a sales rep meets with a potential customer and leaves behind a printed brochure, that brochure helps to extend not only the rep's presence but the company's as well. It's like leaving behind a piece of the company or product.
The Right Printed Materials Engage Consumers
How long does it take for the typical visitor to "read" a web page? (Answer: Less than 15 seconds on average.) The reality is that customers don't read digital materials; they "skim" them. These same customers, however, do read print materials. Print screams to be read – and does a much better job of engaging customers.
Print is Different – In a Good Way
With so many businesses shifting to digital marketing, those businesses that continue to use and value printed marketing materials have a unique competitive advantage. The circle has turned, and print no longer seems like old media; in a world where everything is online, print is suddenly new and different. Businesses stand out by using print, instead of blending in with all the similar digital marketing out there.
Popular Printed Materials for Small Business Marketing
Print collateral is essential for successful small business marketing. But what printed materials should you create for your business?
What print collateral you hand out to your customers depends in part on what type of business you're in and what your customers expect. Here are some of the more popular printed marketing materials to consider.
Business Cards
Business cards are perhaps the most common printed marketing item. Almost all salespeople have personalized business cards; they're good for passing along contact information, and they're relatively inexpensive. Business cards can be simple one-color text jobs or sophisticated four-color items with raised graphics. Whatever the design, a business card should reflect the company or brand image.
Brochures
Brochures are a low-cost way to communicate information about companies, products, and services. An effective design can pass along a lot of information in a small space, including high-quality product photos. They're small, easy to handle, and easy to share.
Flyers and Sales Sheets
A flyer or sales sheet is typically physically larger than a brochure. Flyers can be one-, two-, or four-color, all text or highly graphical. Like a brochure, a flyer can contain a lot of valuable information, including detailed product specifications.
Printed Newsletters
Some businesses like to convey pertinent information regularly to their customers, thus establishing themselves as experts on a given topic. Online, this can be done via a company blog or even a regularly scheduled email newsletter. In print, however, you also have the choice to mail out a physical newsletter. Newsletters are longer than blogs and contain multiple articles, including both industry, company, and product information.
Let Doing Better Business help you find the perfect printing device for your needs
Doing Better Business provides professional production print devices that are ideal for all types of printed marketing materials. Our expert staff understands your requirements to be both effective and cost-efficient. We've been helping others do better business since 1978, and we know what works.
Contact Doing Better Business today to discuss your printed collateral needs.