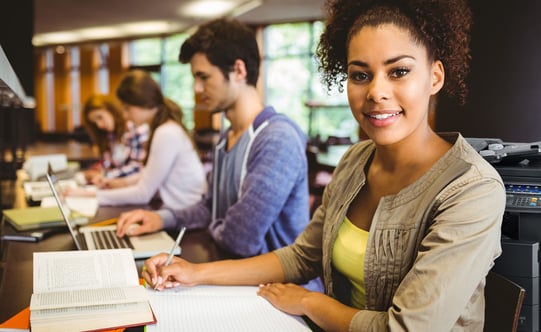 Teachers and school districts need all the help they can get to prepare students for a challenging future. While Multifunction Printers (MFPs) quickly found a home in modern offices, the adoption of these devices as an education technology tends to lag behind commercial institutions. Arguably, it's just as important for students, teachers, and administrators to have access to modern productivity tools such as MFPs as it is for any other organization.
Schools and higher-educational institutions face many of the same problems as modern businesses. They have stagnant budgets, suffer from technology lag, and don't have enough access to expert resources. While teachers and administrators can learn to live and even thrive with these limits, it could negatively affect their ability to provide quality education to students.
Keeping students engaged requires dedication and creativity. Modern students are likely to be more technologically informed than their instructors. The ability to print high-quality images and other materials can help bridge the gap between students and teachers.
Using All-In-One Printers to Drive Student Engagement
Modern all-in-one printers are efficient, come with various features, and can produce more pages per minute than older models. If they receive regular maintenance, the devices will operate reliably and continue to function long after the school acquired the MFP. Before the school invests in a new all-in-one printer, it's essential to know the features that come with each device.
Ricoh IM C4500 Multifunction Printer
Ricoh's imaging devices have been around since the 1930s. The company develops innovative solutions that include printers, copiers, communication devices, and more recently, additive manufacturing solutions. The IM C4500 is a modern, sleek MFP that can handle even the toughest of print environments. It also supports color printing, making it ideal for producing rich and vibrant educational materials.
The Ricoh IM C4500 features include:
Uses Always Current Technology (ACT) for updating features and online services
Can print 45 pages per minute in color or black and white
Ability to scan up to 240 images per minute
It comes with an Android-based 10.1 inch Smart Operation Panel for ease of use
Supports a variety of productivity tools like mobile printing and integration with cloud storage solutions
HP PageWide Enterprise Color 586 Series MFP
Since the inception of the company, Hewlett Packard has continued to lead the industry with quality devices that increase operational efficiency. Their PageWide technology ushered in a new era of MFP capabilities, while their latest software solutions can help increase productivity in any situation. One of their solutions engineered for schools and other high-volume print environments is the Enterprise Color Series 586 MFP. It comes with onboard workflow solutions and produces color prints at a 40% lower cost than other laser printers.
The features of HP's PageWide Enterprise Color 586 Series MFP are as follows:
Printing speeds of up to 75 pages per minute
Support for various paper types
High-speed two-sided scanning (up to 70 images per minute)
Embedded security features that automatically detect threats
A pullout keyboard and onboard Optical Character Recognition (OCR) to convert a scan into editable text
Sharp Technologies for Education Verticals
Sharp goes beyond merely providing MFPs suitable for education. The company delivers a complete and robust set of education technologies that can help streamline any academic workflow. From learning management systems (LMS) to automated grading solutions, the company continues to drive the future of education. Their MFPs and Production Print solutions can integrate with systems like the BlackBoard Learn, helping teachers and students to communicate and share content.
Modern MFPs and education technologies from Sharp also come with enhanced firmware security and a unified user experience spanning 30 different models. As it makes all devices easy to use, it's the perfect solution to help students and teachers remain engaged with a subject. Sharp's MFPs have customizable touchscreens, support many apps, and have voice features on supported models for ease of use.
Improve Your Institution's Capabilities with Managed Print Services from DBB
Doing Better Business understands the challenges educators face while trying to engage with their students. With stagnant budgets and limited resources, schools need to look for new strategies to ensure they can upgrade their equipment and provide the latest technology to their students. One way schools can still gain access to modern MFPs and reduce their printing costs is with managed print services (MPS).
Using MPS solutions, DBB can help schools to regain control over their print fleets while also reducing their overall operating costs. MPS solutions come with a consistent monthly budget, expert support, and regular maintenance. DBB will work with the school to understand their environment and develop a solution that suits their unique requirements. As access to technology becomes more important in educational settings, partnering with DBB can help school districts acquire and deploy solutions that help them prepare their students for the future.
If you need to discuss the different features and capabilities of modern multifunction printers for higher education, speak to one of Doing Better Business's agents today.