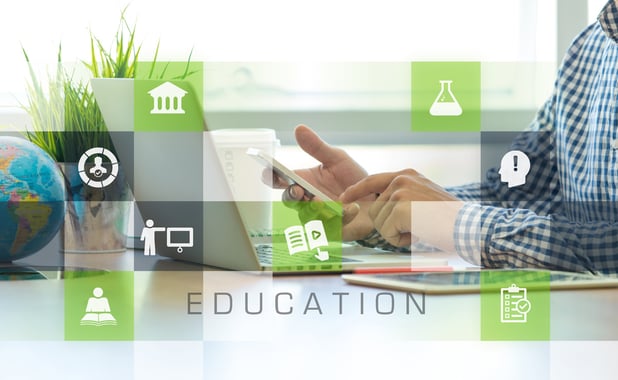 Schools have many challenges in handling the variety of paperwork required to conduct the business of education. Not only is there the usual mix of business documents such as personnel records, purchase orders, financial records, and invoices to be processed, there are so many others unique to the academic sector:
Student records
Class schedules
Test and examination results
Student curriculums
Committee and board meeting information and notes
Course plans and content
Parent-teacher conference information
Of course, this barely scratches the surface of the type and sheer volume of documentation essential to operating a school efficiently.
Each of these documents has specific requirements for storage, retention, distribution, and security.
Managing this enormous mountain of information with paper documents is nearly impossible. Without effective document management solutions and customizable workflow, administrators and teachers could not provide the level of quality education they offer today.
Document Management and Workflow Solutions
When surveyed, many teachers report that paperwork and reporting consume so much of their time that they're unable to spend the desired amount of time with students.
Manual processes create an unnecessary burden on teachers, students, and supporting staff. Fortunately, there are now sophisticated document management solutions that offer relief and provide effective process optimization.
Records management is challenging for any organization, but schools have even more complex requirements and opportunities to take advantage of specialized document management systems.
Everyone realizes the importance of education. Making the learning experience as efficient as possible is the key to providing a quality experience for both students and faculty. Document management can help in many ways:
Enhanced school security – workflows can route digital documents securely to only personnel authorized to view the information. Electronic records eliminate the potential for confidential information to be left on a printer or to be misplaced.
Managed print services – moving document management to the cloud eliminates the need for IT technical resources for managing document-related servers and printing infrastructure. This saves personnel costs and provides a more secure environment for confidential information. IT technicians can also focus on more critical activities.
Communications – notifications can be automatically generated and distributed to students or educators without printing, copying, or mailing. Save time and money, optimizing business processes.
Optimizing School Workflows
Document management offers benefits that are unique to the business of education:
Marketing – electronic retention of alumni records enables administrators to contact and notify past graduates of special programs and funding requests.
Financial aid – financial staff can manage aid requests more efficiently and detect missing or incorrect data easily. Requests to students for information can be generated through a workflow. Payment reminders can also be automated, reducing manual processes.
Report cards – providing grades on a timely basis is essential to students, parents, and school administrators. Document workflows can route such information quickly and securely.
Attendance records – faculty needs to report absence promptly. Manual paper processes are simply not acceptable today. Communication regarding absent students must be efficient and immediate, particularly in grade school environments.
Student medical records – complying with health regulatory mandates means secure, reliable retention. Workflow can help you automatically collect medical data of your students right from admission to graduation.
Athletics – maintaining and accessing records for participants of organized sports enables administrators and coaches to plan schedules, monitor qualifications, and much more. Workflows can notify team managers of changes in eligibility quickly and efficiently.
Libraries – automatic notification of past-due items frees library staff for more critical tasks. Publications can be reserved and students notified when they are available with workflows.
Admissions – admissions offices are excellent candidates for optimizing school workflows. Applications can be scanned or saved in electronic form, and reviewed by authorized staff in real-time, forwarded to additional parties as necessary. Omissions or any need for more information can be requested electronically, optimizing admissions processing.
All schools and institutions of higher education can benefit from the power of document management solutions with integrated workflow:
Save money on paper and supplies
Reduce the dependency on IT personnel for printing support
Streamline business processes
Ensure compliance for document retention
Improve the security of confidential information
Gain access to information in real-time, including search capabilities
Eliminate filing and manual paper-handling activities
Schools will realize a significant impact on student satisfaction and faculty performance by merely migrating to digital document management.
How Doing Better Business Optimizes Educational Processes
Education and technology make a powerful combination for administrators, faculty, and students. Doing Better Business has partnered with schools of all sizes for process optimization through industry-leading document management systems and much more:
Selection and support of energy-efficient multifunction printers from leading manufacturers
Managed print services that allow all parties to focus on education, not printers or supplies
Interactive whiteboards that facilitate compelling visual communications
Leveraging document management and integrated workflow aids schools in dealing with every type of document to maximize efficiency and security. Contact the professionals at Doing Better Business today for more information.