County and local governments are heavy document creators and are usually required to store these documents forever. For those localities that have not made the transition to digital, the space to store these documents can become quite costly.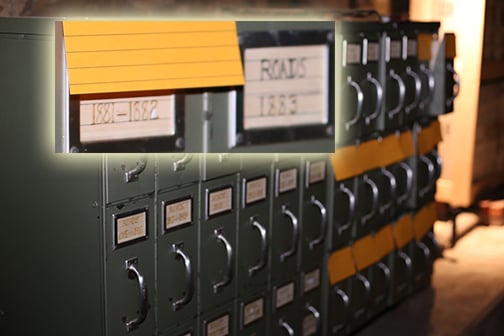 And, not just the cost of space but the time for staff to find documents is just as costly. Local government organizations are challenged with providing high quality public services with smaller and smaller budgets and even fewer employees.
Looking at just The Office of the Prothonotary, this elected officer has administrative control over and responsibility for all official documents and records of the civil and family divisions. It is the duty of the office to record such legal documents as Appeals, Assignments, Commencement of Actions, Equity, Divorce, Complaints, Executions, Final Orders, Judgments, Liens, Name Change Petitions, Signatures of Notaries Public, Satisfactions, Subpoena's, Exceptions to Judicial or Tax Sales, Revivals and Minor's Compromise. Additionally, the Office of the Prothonotary initiates judgments entered by magisterial district justices to the Court of Common Pleas. The Prothonotary also processes appeals from the magisterial district justices to the Court of Common Pleas as well as appeals from the Court of Common Pleas to the Superior, Supreme and Commonwealth Courts. The Prothonotary also serves as an Agent for the Federal Government for the purpose of processing Passport applications.
Great public service depends on having the information at your fingertips to immediately answer resident inquiries and requests.
The Prothonotary searches and accesses documents at least several times each day. These documents must also be accessible to residents, abstractors and attorneys.
The common practice is for an abstractor or a staff member to retrieve a document, view it and then replace it in a file. That file then needs to be taken back to the original file location. These repetitive manual tasks redirect resources away from tasks that provide value and possibly revenue generation.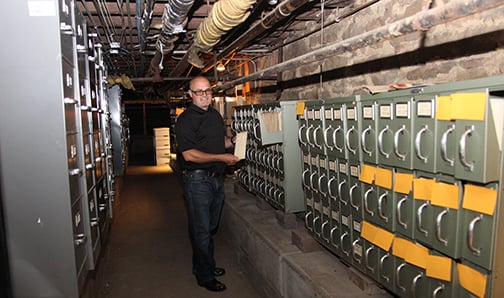 Brian Spencer, Prothonotary & Clerk of Courts
In Clearfield County, PA, those files reside deep inside the catacombs underneath the original courthouse. Note the water and sewage pipes above some of the paper filing boxes. This is very risky and there is potential for serious damage and loss of these documents.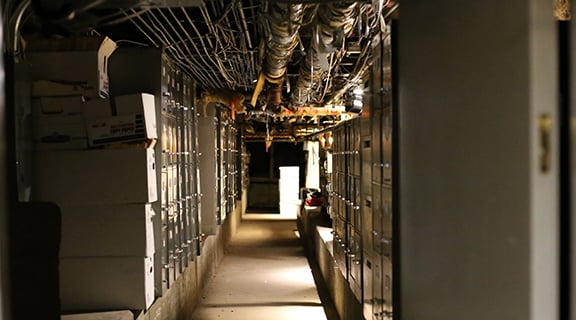 The other risks involved in hard copy documents is not being able to protect confidential files or even confidential information within an individual document and of course, the not so unusual misplacing of a document into the wrong file. Hard copy files have no audit trail. There is no way of knowing who has accessed these documents.
The goal for Clearfield County was to begin the path to Enterprise Content Management (ECM). The path to ECM is daunting but the benefits will help them provide and process information for the public faster and more cost-effectively than ever before.
"The scanning project will enable the Prothonotary's office the ability to allow residents, abstractors, attorneys and court personnel to view records from their home, work or mobile workspace via a subscription." said Brian Spencer, Clearfield County Prothonotary and Clerk of Courts, "As you can see the time savings and ease of retrieval will help the Prothonotary's office work more efficiently and without interruption from online subscribers for retrieval of files."
The Digital Transformation Model
Converting paper documents into an electronic or digital format is just the first step on the path to ECM.
Take for instance, York County in Pennsylvania. They started down this path in 2006, with scanning every document created in 2006 plus legacy, back file scanning from the year 2000. This initiative only provided for the electronic records for all Criminal, Juvenile, Summary Appeal and Miscellaneous Docket files representing 4 million plus documents. They completed the legacy, back file scanning project in 2009.
The second step on the path to ECM is document management: the ability to organize those electronic documents.
Franklin County first purchased Laserfiche back in 2001. Jean Byers, deputy chief clerk in the Commissioners' Office said, "They selected Laserfiche for its instant search capabilities, as well as the fact that we could install it directly on the computers already in use." She continues, "We immediately realized tremendous benefits from Laserfiche. Documents that used to take days to find became available with the click of a button. It used to take hours to find specific text within meeting minutes that were hundreds of pages long, but with Laserfiche it only took seconds." The new technology also made it easy to share documents with colleagues, and due to a similar look and feel as Windows, Laserfiche quickly became popular with both management and staff.
The third step on the path to ECM is Business Process Management (BPM): Streamlining repeatable processes.
For accounts payable (A/P) functions and auditing, converting the invoices or receiving digital invoices directly into the process for reviewing and approving to generate payments is simple. The entire process becomes automated and remains 100% electronic. There is even integration into the back end cost accounting system like Quickbooks. For auditing, the documents are available for immediate retrieval and there is complete trail of everyone involved.
The final step on the path to ECM is total Transformation.
As already illustrated most county governments begin the path in one or two departments. It is not unusual to find multiple ECM platforms scattered throughout departments in a single county government. Multiple platforms cause silos of information, making it difficult to work and share the information. Silos drive up costs and wastes valuable time. The best way to transform is to have county-wide adoption of one ECM platform. This enables the IT staff to be more efficient and makes the end user training much easier.
Departmental Usage Examples of ECM
Human Resources: Managing personnel files electronically can lead to quicker resolution of grievances. Access rights and privileges provide peace of mind that only authorized users can assess confidential information.
Commissioners: The ability to share meeting calendars and minutes.
Emergency Services: The ability to manage notes from 911 calls and cases.
County Jail: The ability to store inmate records and requests.
Planning: The ability to manage new development records.
Open Records: With a goal of transparency-minutes, plans, drafts, and studies are made available to the citizens.
Real Estate: The ability to manage audit reports and past voting results.
All Departments: The ability to develop and use eForms reduces transcribed orders, postage costs, and time from traditional mailing.
Can your current ECM solution deliver the full capabilities to truly manage and transform information across the entire enterprise? Contact the experts at Doing Better Business today, for our checklist on evaluating your ECM solution.