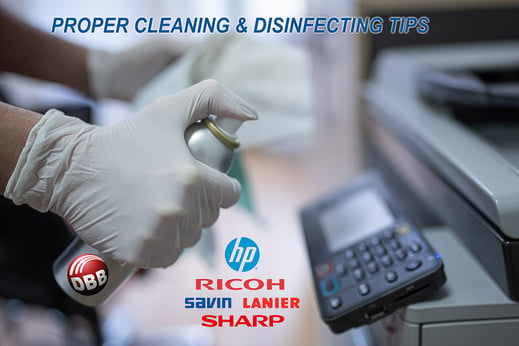 COVID-19 (Coronavirus) is changing all aspects of our lives. With so many people touching the control panel, document feeder, output trays, and drawer handles every day, your office copiers and printers can be a hotspot for germs. Disinfecting surfaces during the coronavirus (COVID-19) outbreak is a best practice to limit the survival of the virus and prevent transmission. Download any or all of these cleaning guides to stay safe.
HP is dedicated to providing customers with market-leading business solutions that help them be innovative, productive and support their well-being. With public health concerns over the SARS-CoV-2 virus and COVID-19 disease, also known as Coronavirus, spreading worldwide, HP wants customers to have the information they need to effectively clean HP devices and to assist customers in maintaining a healthy work environment.
First and foremost, RICOH hopes that all our customers are out of harm's way and anyone who is, or has loved ones who are, affected by this virus make a swift and speedy recovery. We know that the COVID-19 pandemic has created uncertainty in all our businesses. RICOH also knows that many at the front lines in healthcare, our first responders, and our teachers are learning new ways to instruct our children by leveraging technology. We want to do all we can to help ensure they are successful..
The success of your operation is the success of our operation. Now more than ever, it is important to maintain a clean working environment for your staff and ours. Here is our guide to cleaning your Sharp MFP to help businesses control the spread of illness.
For More Information regarding COVID-19, please visit the CDC Website.
Doing Better Business can help you stay safe and productive. Contact us now if you need any technology solutions to keep you working remotely.