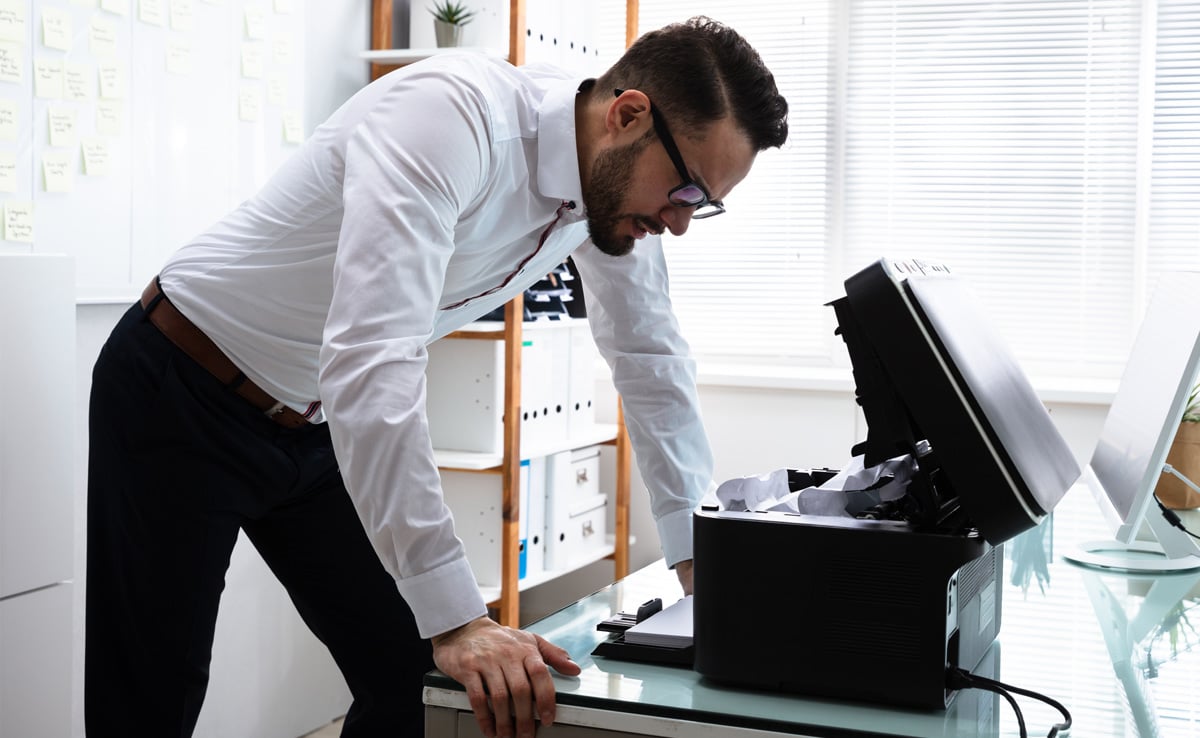 Conducting regular reviews on company operations to identify cost-saving measures is a good business practice at the best of times. When a company faces economic challenges, it's a priority to try to save costs wherever possible. Keeping staff productive and cutting operational budgets is a challenge for any business. One strategy that helps many organizations do both is by adopting Managed Print Services (MPS) and solutions.
By 2017, surveys showed that only 36% of small businesses were tracking their printing costs. Although this number may have increased over the last three years, the most efficient way to regain control over document production, management, and output remains working with an MPS Company. With more businesses realizing the benefits of MPS solutions, the market will grow at a CAGR of 8.5% and reach $50.78 billion by 2023.
Cost Benefits of MPS Solutions for SMBs
The cost of runaway printing operations in a company can escalate quickly. Managed printing is the easiest way to regain control over the organization's fleet of printers. Using technology to establish the necessary controls and track all document output within the company can help the business establish policies to limit waste. As printing remains an essential function in today's offices, every company can benefit from using MPS to reduce their operational overheads. For organizations that need to reign in operational costs, here are five benefits of MPS for businesses.
1. Increased Oversight and Operational Control
MPS solutions take the organization's consumption and volumes into account before developing a service solution. To do this, they'll assess the current print environment and make a recommendation regarding existing policies and equipment. Once they take over the company's print operations, they will track every print job to the exact user and device. With complete oversight, the organization can establish policies that limit wasteful practices and enforces responsible printing throughout the workplace.
2. Access to Efficient Multifunction Devices
Modern Multifunction Devices (MFDs) use less power and ink to produce documents. With an MPS solution, the organization can upgrade their fleet of devices with newer technologies designed for efficiency. Devices also use less space, freeing up expensive office real estate while consolidating operations into a single, productive, full-featured MFD. The MPS Company will recommend which devices will suit business operations and workflows, helping to streamline the company's print and document processes.
3. Improved Efficiency and Productivity
Investing in upgraded technology also presents an opportunity for an organization to revamp its business workflows. Solutions can help integrate document management processes with MFDs and digitization technologies. The organization can reduce their total printing volume while speeding up information flows and achieving new operational efficiencies. MPS enables mobile and cloud-printing solutions, keeping staff productive from any device and location.
4. Establishing a Consistent Document Production Budget
Managed print helps organizations to establish a consistent budget for all document-related supplies and technology needs. The MPS provider will review current operations and identify where cost-saving opportunities exist. Once the parties agree on the package of services, the MPS Company will charge a single monthly fee to supply the organization's entire document related infrastructure. With a consistent budget, the company can ensure reliable operations and save on business costs.
5. Enhanced Information Security
The liability that comes with information and data security presents a significant challenge to all types of businesses. Printers and imaging solutions increase a company's attack surface and require the same elevated information security controls as any other connected device. Using newer MFDs, the company can secure all information both during transit and at rest on the device, while helping reduce the cost of compliance. Combining MPS with an integrated Document Management System (DMS), the company can streamline all their information security processes both in digital and physical form.
Using Managed Print Services to Save on Business Costs with Doing Better Business
As companies start researching cost-saving ideas for the workplace, MPS will continue to pop up as an innovative and reliable way to ensure operations and reduce overheads. By retaking control over runaway printing practices, the company can reduce its document output costs while also streamlining its operational workflows.
MPS also helps organizations to improve their workforce's productivity and increase their efficiency using digital solutions to speed up their task processing. Using automated workflows, DMS solutions, and mobile integration with a fleet of modern MFDs, any organization can benefit from adopting an MPS business model.
Doing Better Business works with organizations to understand their exact requirements and develop a solution to improve daily operations. With a host of different technologies and productivity tools, our MPS solutions can help increase staff productivity, reduce wasteful practices, and establish the necessary controls to help company's save on business costs. DBB has a team of experts ready to assist any organization that needs to leverage today's technology for improved operational efficiency.