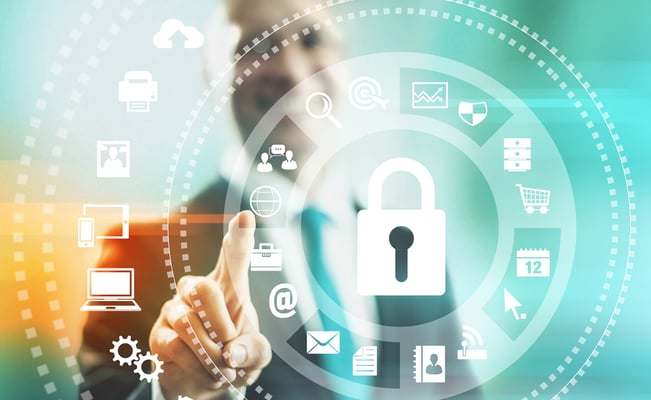 Printers are one of the most vulnerable devices in an office. Modern printers are much "smarter" than their older counterparts – they have touch screens, run on wi-fi, and have numerous programming capabilities.
Unfortunately, these smart features make printers more susceptible to hacking and cause private information to be stolen easily. To ensure a business's cybersecurity is airtight, an office must assess all its vulnerabilities. Hackers today are skilled and versatile and can sow discord in a peaceful printing environment by implementing unauthorized changes or rerouting print jobs.
Thankfully, many printers now come with an array of security features – offices just need to exploit them. That is where managed print services come in. Managed print services (MPS) exist to make an office breathe easily by taking away the worry of understanding the ins and outs of all things printing.
3 Ways Managed Print Services Can Protect Your Printer
Hackers can get into printers and do damage to a network in various ways. For instance, they can use malware to remotely take over a printer, controlling what it prints and what it can access. Hackers can even go through a printer to get to other vulnerable parts of the network and wreak havoc.
Managed print services benefit businesses by shedding light on the trickier aspects of a healthy printing environment. Through MPS, a printer can be airtight and secure – making sure a company does not fall prey to printer hacking.
1. Create Secure Passwords
Many printers come configured with default passwords. Managed print services can update these with strong, unique passwords to prevent unauthorized access and make it difficult for hackers to breach the network. With less than 2% of business printers being secure, it's vital to protect an office's printer fleet.
A secure password can cut down on printer hacking attempts and thus improve a business's cybersecurity. The practice also benefits businesses as nearly 66% of consumers would not do business with a company that has suffered a data breach before.
2. Ensure All Features Are Up to Date
Printers have many of the same features as computers, so just like computers, they also require security updates. Around half of businesses that experienced a data breach can attribute it to a lack of printer security. Managed print services ensure that a printer always has the latest updates for elements like drivers, firmware, and so on. Moreover, printers that operate optimally, thanks to managed print services via regular system updates, improve an office's productivity.
When MPS checks for efficiency in an office, it may recommend downsizing a device fleet by retiring old and outdated devices. Besides reducing energy consumption, it makes it possible to keep track of at-risk devices and protect them.
3. Educate Employees on Printer Safety and Etiquette
When all employees have unlimited access to a business's network, it makes the company vulnerable to cyber-security breaches. Fortunately, managed print services do not just improve businesses' cybersecurity – they also teach employees the functionalities and best practices of printers in their office.
Employees are often untrained in the security of their printing fleet. Around 90% of businesses do not even know the number of printers in their fleet or how often they use them to print. If more employees know how to operate a specific printer in an office, there will be less wiggle room for printer hacking to go unseen.
Managed print services may also implement a printing policy and set up a plan for stricter rules on who has the permission to print certain documents or how long printed documents can remain unattended.
Keep Your Printer Safe with Managed Print Services
Managed print services are not just about the devices. MPS also encompasses the printing materials, such as ink and paper, as well as IT support. Printers may expose a weak point in an office's network, but managed print services can be their armor.
Doing Better Business's managed print services can transform a hazardous printing environment into an organized, greener one that runs more efficiently and operates smoothly – with a lower risk of hackers poking through the wall of defense. Make it a resolution to protect your office's printing fleet in the new year with managed print services.
Contact Doing Better Business today to speak with a consultant about how managed print services can protect your printer fleet.