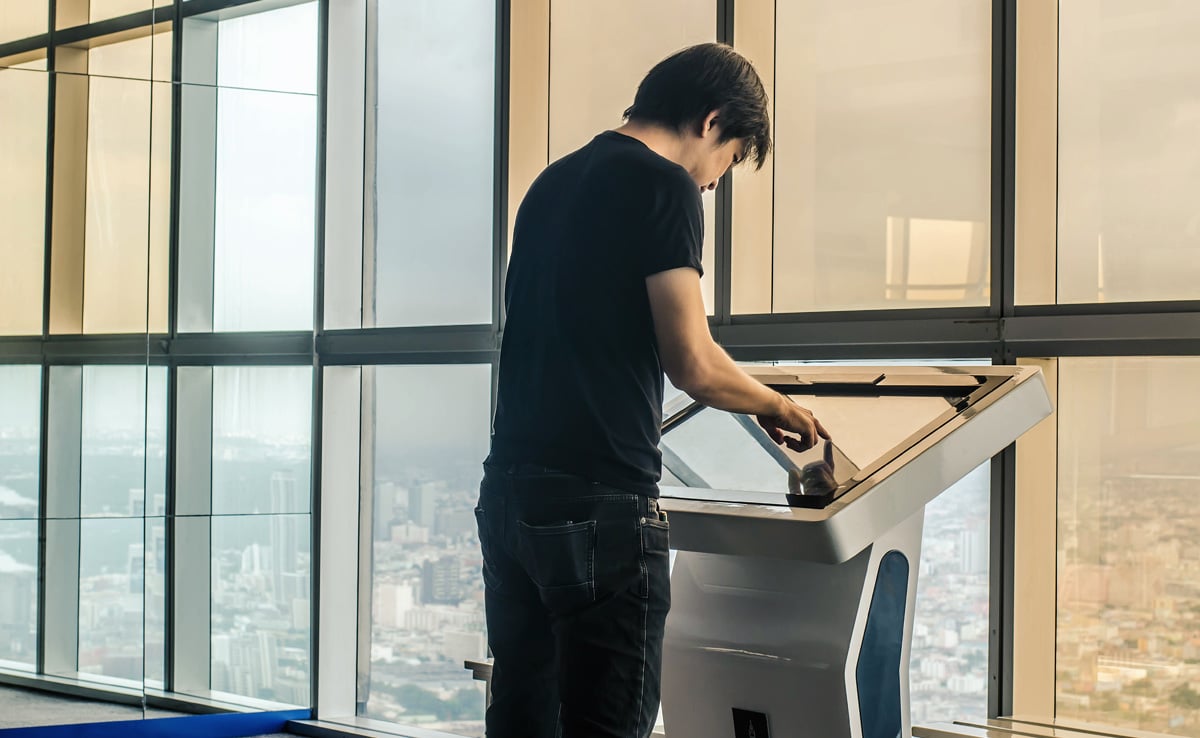 Keeping up with customer expectations in today's saturated digital world requires innovation and creativity. With so many services and products only a mobile screen away, engaging with customers across all channels and platforms is vital for running a successful business. The importance of Customer Experience (CX) throughout every touchpoint a company has with its customers cannot be overstated.
Bringing personalization to digital display marketing is possible due to the advances in the data sciences. Integrating different platforms with analytics regarding consumer behavior is starting to resemble what was only possible in movies a few decades ago. A digital signage marketing partnership between Microsoft and Kroger will aim to deliver personalized ads to grocery shoppers similar to the 2002 film, Minority Report.
The Future of Digital Signage and Personalized Advertising
Dynamic display systems and Digital Out-Of-Home (DOOH) advertising solutions have already improved shopping and retail experiences. By replacing printed promotional material with high-definition digital displays, organizations can improve their flexibility, content delivery, and marketing automation capabilities. With DOOH systems evolving and consumers expecting greater personalization during their shopping experiences, innovation in the digital signage industry is likely to disrupt existing models in the future.
Some studies suggest that 79% of consumers are likely to engage with offers if it uses past interactions to personalize the message. This holds over every digital marketing channel and deserves consideration from businesses. Although, the best way to deliver personalized ads over dynamic displays still seems up for debate. Here are three ways companies are implementing personalization on in-store digital signage systems.
1. Mobile Phone Integration
If the company has an app for its services, it's possible to integrate a customer's mobile phone location with the store's digital signage. The level at which the company can use the two datasets to deliver personalized marketing will depend on the agreement between the two parties. In one use case, Beacons recently started delivering personalized content to shoppers. Still, it required visitors to download and open the app before visiting the store while also enabling push notifications. They had to build multiple layers of consent into their platform to avoid damaging their reputation and negatively affecting the customer's experience.
2. Shopping Cart Displays
Another mechanism used to deliver personalized information during an in-store experience is to mount a display on the shopping cart. One solution also scans products as they enter the cart, helping streamline the checkout and payment experience. As the company can track the individual carts throughout the facility, proximity triggers can help deliver special offers and targeted ads on large, digital displays placed throughout the store.
3. Using Biometrics for Statistical Information
Usually, the first thought associated with biometrics is security and access control. Retina and fingerprint scans can help protect sensitive locations and information. The same technology can also help gather information such as demographics, passing traffic, audience engagement, and content performance. Using biometric information to segment future digital signage campaigns and adjust in real-time based on the audience can become a powerful personalization tool for companies without relying on invasive, personal data collection practices.
Emerging Technologies in the Digital Signage Marketing Industry
At the Consumer Electronics Show (CES) of 2020, multiple vendors presented new personalization and retail experience technologies that will drive the industry over the coming decades. Some of the more interesting channels included outdoor digital signage, Augmented Reality (AR), and Virtual Reality (VR) solutions.
The enablers of the new wave of DOOH marketing will depend on three technologies maturing. These include 5G, the Internet of Things (IoT), and global connectivity. Wherever these capabilities intersect, there will be an opportunity for marketers to streamline their CX and deliver on customer's personalization expectations.
Adopting digital signage solutions in a company already brings additional benefits to the organization. Using digital displays strategically in a retail outlet can help capitalize on impulse purchases, inform customers about special offers, help clear stock about to expire, and engage shoppers during the checkout process.
Why Invest in Digital Signage for Your Customer Experience Now
Every company will have to address their CX, whether it be in-person experiences or their online services. A seamless process that remains uniform throughout every interaction with the organization is preferable, and digital signage gives companies a platform to achieve just that. As more customers will expect an element of personalization, investing in dynamic digital displays now will help the company prepare for any disruptions in the future.
Find a Digital Signage Solution for Your Company with Doing Better Business
Systems today come with advanced integration into media design tools and Content Management Systems (CMS). It gives companies the ability to curate all of their content, schedule it as required, and create a uniform experience throughout the marketing landscape. By adding personalization on top of the experience, it will improve engagement and customer loyalty.
Doing Better Business has a range of platforms and solutions available to suit any environment or business requirement. We will work with the organization to provide a system that delivers according to their business needs while remaining flexible and robust enough to accommodate any future initiatives.
To discuss your digital signage requirements, and find ways to improve your customer experience, speak to Doing Better Business today.