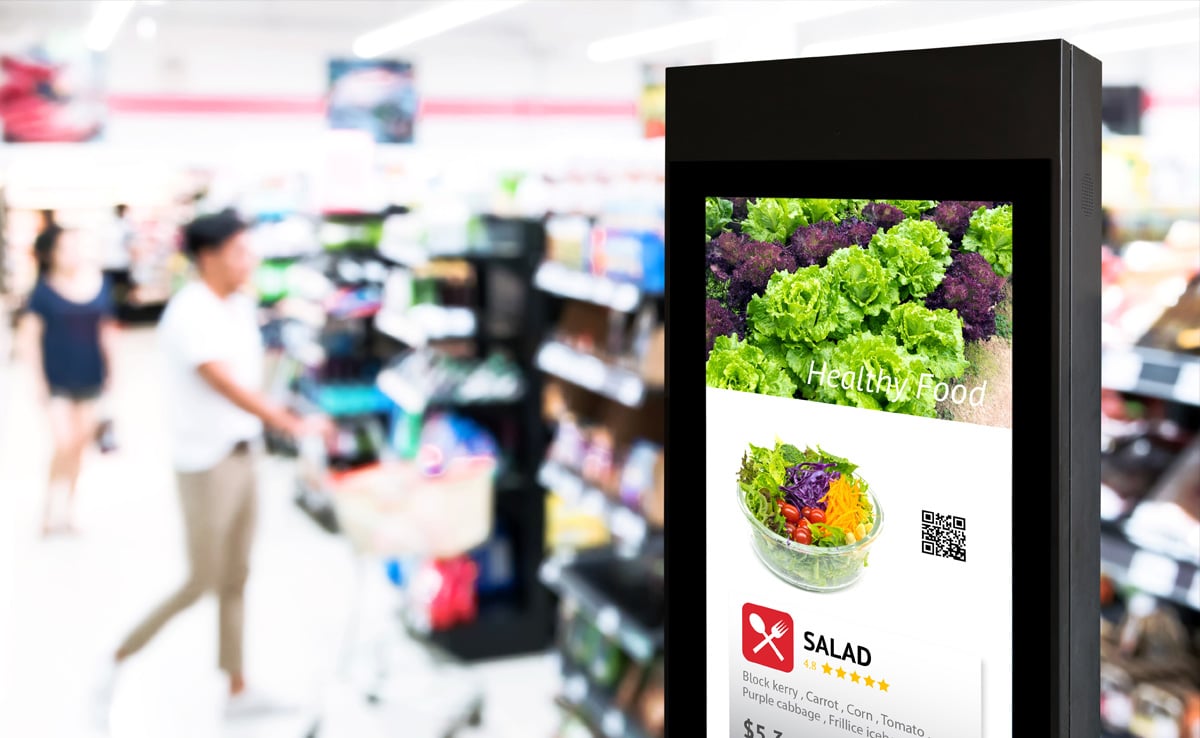 A modern consumer doesn't look anything like their counterpart from twenty years ago. Today's shoppers want a fast, efficient, and enjoyable experience from the businesses they patron. While the quality of goods available in-store remains a priority, using digital signage for advertising in supermarkets is becoming more common.
Throughout the past decades, humans have shopped for fresh produce and food in much the same way. For example, Piggly Wiggly dramatically changed the industry by introducing price tags, shopping carts, and checkout lanes in 1916. From then on, the layout and retail model remained mostly unchanged for the last 100 years.
6 Benefits of Digital Advertising in Supermarkets
Advances in technology over the last few decades led to many disruptions in industries that haven't changed their operating methods. Supermarkets and grocery store advertising techniques similarly stagnated. The experience had become dull and many consumers couldn't tell one retail chain from another except outside the building. To bring character and uniqueness back to the shopping experience, here are six benefits of using digital signage for advertising in supermarkets.
1. Capitalize on Impulse Purchases
According to a survey commissioned by Slickdeals, the average consumer will spend $450 every month on impulse purchases. The majority of these purchases go towards food and groceries. People make decisions impulsively based on the information they consume. Something as simple as driving past a restaurant could lead to a person stopping to buy food from there.
Dynamic digital displays strategically situated throughout the supermarket can help increase spending by creating emotional resonance with customers. Compared to static posters or faded displays, digital displays remain a vibrant communication tool that evokes a response from customers.
2. Energize Customers to Help Reduce Food Waste
Food waste is a global problem. In America, as much as 40% of all food goes to waste according to the National Resources Defense Council. Grocery stores account for about 10% of all food wasted in America, while retail outlets waste as much as 42 billion pounds of food every year. While marking down food close to its expiration date may help, it requires customers to visit that aisle before they even know about the deal.
Using a digital display integrated with the POS and value chain systems, grocers can help customers make responsible choices. By informing customers of deals on food products that they will have to throw away if not purchased in the next few days, the store can help tackle the food waste problem.
3. Embrace the Digital Revolution
Almost everyone is now comfortable with smartphones and using digital screens for daily tasks. By adopting a digital display solution, supermarkets can join the trend and use the technology in a savvy way to increase engagement with customers. Wherever it's possible, the supermarket can use dynamic screens to update customers on the latest deals, highlight new products, or even use integrations to indicate a specific item is out of stock by greying it out on the display.
4. Generate Additional Revenues with Digital Advertising
Digital displays can help increase revenues by delivering ads to customers. Today's marketing depends on digital advertisements catered to an individual's specific habits. While dynamic and interactive displays are one of the best supermarket advertising ideas, it also creates cross-selling opportunities some brands are willing to pay for.
Additionally, digital displays are a good way for grocery stores and supermarkets to improve their loyalty programs. The company can offer coupons or other deals for customers who follow them on social media. Using incentives help improve personalization and creates more engagement with the company's customers.
5. Broadcast Sustainable Initiatives
Getting good press is one of the best grocery store marketing techniques. If the company has any sustainability or community engagement initiatives, they can use digital displays to broadcast their programs. When a product or brand has a unique selling point, the store can ensure their customers know about it.
6. Reduce Frustration While Queueing
Queueing is a frustrating time during the shopping experience. While most stores in the future may have self-checkouts, a digital display can calm customers while they wait in line. Using dynamic graphics reduce a customer's perception of time, calming them while queueing. Displays can also show live TV or stream from the internet. For example, if there's a local sporting event going on, the store can show their support for the team by showing the game to customers.
Supercharge Your Grocery Store Advertising Techniques with Doing Better Business
Doing Better Business can help grocers and supermarkets supercharge their advertising with dynamic digital displays. Working with manufacturers like Sharp and Ricoh, Doing Better Business can develop an integrated solution that ensures the business can transform its in-store displays and improve customer engagement and improve communication throughout the supermarket.
For more information about using digital displays to improve your grocery store advertising techniques, reach out to Doing Better Business today.