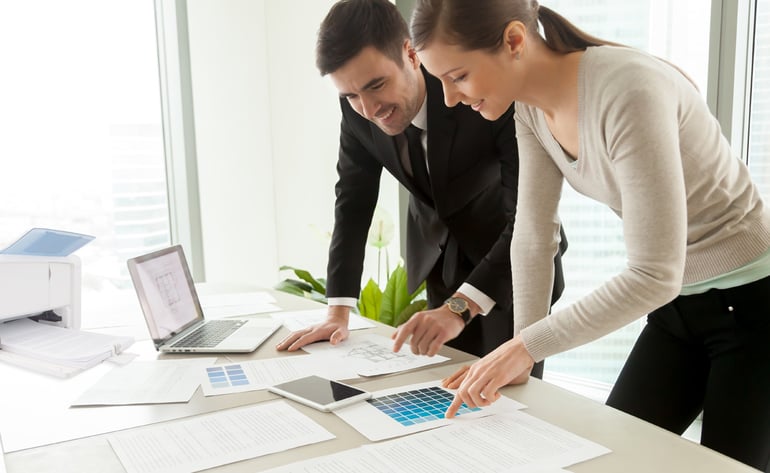 In today's age of social and environmental awareness, every organization knows how far a reputation for sustainable practices can go in the modern economy. The public expects today's companies to make every practicable effort to reduce their impact on the environment. Yet, sustainability in business goes way beyond merely sourcing eco-friendly supplies and technologies. It requires a concerted effort to streamline the practices and processes in the company towards a business that can grow effortlessly into the future while reducing wasteful activities in the company's daily operations.
It's a well-known fact that most companies do not track their printing operations and have difficulty calculating how much it costs. With the number of paper documents coming and going in the company, printing costs can run quite high and eat into the organization's revenues. A Managed Print Services (MPS) solution can help companies achieve sustainability and regain control over wasteful printing practices.
How Managed Print Services Drive Sustainable Solutions
If an organization is looking for new office sustainability ideas, moving to a managed services model can help them achieve their goals while also leading to additional cost savings. Companies that provide Managed Print Services will ensure the business can reign in runaway print costs and provide greater oversight over every document printed in the office.
How Managed Print Services Work
An MPS company will assess the company's current printers and document workflows to help them understand the volumes and establish a baseline of their printing practices. Based on this information, the MPS provider will provide a proposal for reducing inefficiencies, eliminating waste, and establishing control over the entire print fleet. As the service will come at a single monthly cost, the customer can set a consistent budget for the control measures they would like to implement.
Once the company moves to an MPS business model, the service provider will continue to work with the business to optimize the solution. This may include the addition of other office productivity solutions, establishing data security measures, or digitizing more of the company's daily workflows. The proposal of the MPS will address the business' exact requirements, providing a comprehensive solution that helps the organization achieve its real sustainability goals.
How Does an MPS Solution Enable Business Sustainability
Apart from optimizing the print operations, an MPS model will reduce the number of prints a company requires by recommending a number of technologies and applications for digitizing operations. They will also recommend and provide new hardware that comes with more energy-efficient power consumption, reduced ink and toner usage, and monitor print jobs for wasteful printing practices.
The MPS company will also help the organization to consolidate the fleet into fewer, more efficient devices and provide the business with recycling opportunities for both ink cartridges and paper supplies. The overall impact on the business' sustainability will yield results quickly, allowing the company to improve the office's productivity that leads to higher cost savings and increased revenues.
Other Benefits from Adopting an MPS Business Model
While the organization will achieve greater sustainable practices, there are other benefits from moving to an MPS business model. Primarily, improved oversight and control over all printing and copying operations, as well as detailed analytics gathered about business practices, can help the company make informed decisions in the future. MPS solution providers will also assist the company in strengthening its information security by applying policies to the devices and users in the office.
Printers and copiers have become a target for criminals looking to gain access to either private information or exploit company networks. With an MPS solution, the latest threat protection tools and information security practices help reduce the risks of uncontrolled disclosures or data breaches. The business will be able to track every print back to the user or device, enabling them to investigate any unauthorized dissemination of information.
The company will also benefit from devices that operate more reliably, receiving supplies before they run out, and ensuring all printers and copiers receive the necessary preventative maintenance. Finally, the organization can reduce stress on employees who regularly deal with faulty equipment while trying to do their jobs. This allows the company's resources to focus on tasks that add value to the business instead of troubleshooting device errors.
Doing Better Business Can Help Organizations Achieve Their Sustainability Goals
Doing Better Business (DBB) helps companies achieve their sustainability goals with innovative solutions and office productivity tools. Since 1973, DBB has worked with organizations to leverage the latest technology for reduced cost and streamlined operations. As a business productivity and office technology partner, DBB can help any company reduce its physical footprint and eliminate wasteful practices towards a more sustainable business model. DBB provides Managed Print Services, Document Management Solutions, and Managed IT services to help companies succeed in the modern economy and current business landscape.
For more information about sustainable Managed Print Services and office productivity initiatives, reach out to Doing Better Business today.