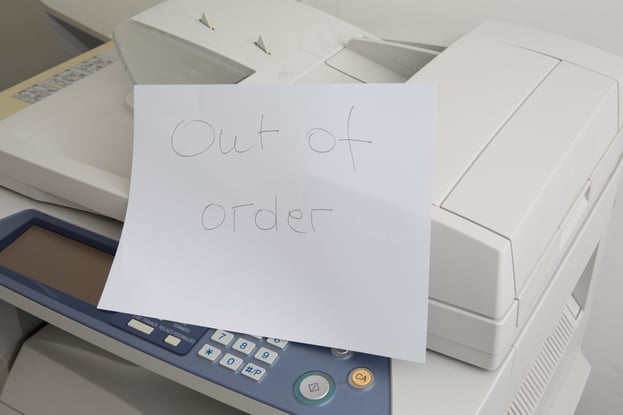 You are thinking of purchasing a new copier or printer or maybe you just recently purchased one, and have been wondering what kind of problems might you encounter. Here are the 5 most common problems that occur with copiers and printer.
1. Jamming
Paper misfeeds are one of the most common issues you will encounter with your devices. There are a number of causes and solutions we can address. First, check to make sure you paper is loaded correctly in the drawer of tray. Paper which is damaged or damp from humidity will create issues. You can remove the paper from the tray, fan it and place it back in again to see if this resolves the issue. If you have a damaged paper tray, worn feed tires or damaged fuser claw, you will need to have a technician come out to perform service.
If you have a copier and you are experiencing misfeeds of your originals in the document feeder, check for paper clips or staples inside the feeder. Again, you will need a technician if it is time to replace the feed tires.
2. Poor Print Quality
If this is happening with your copier, the most common reason is there is dust, dirt or white out on your slit glass or platen glass. You can easily clean this with a glass cleaning product.
If you have smearing issues or the print rubs off, check to make sure you are using the right type of paper. You cannot use paper made for an inkjet printer in a laser copier or laser printer and it will damage the machine. You can also check to make sure you have selected the proper settings in your print driver, ie., glossy or thick paper.
If you are experiencing lines or blurring and you have verified the document feeder glass is clean or this is just a printer, you will need a technician. This is usually the fusing unit or the photoconductor unit (drum).
3. Error Codes
The first thing you can do if your device stops working and gives you an error code message is reboot the device. Be careful, many devices have both a main power switch and a sleep power switch. For devices with both, you will need to put the device to sleep first (this is powering down the hard drive), and then shut off the main power switch. To be really certain, you could then even unplug the device for ten seconds and then plug it back in again. If this does not clear the error code, you can call and see if the code is something you can resolve. Usually, you will need a technician if you cannot clear the code.
4. PRINTING OR SCANNING ISSUES
One of the most common issues we see is when you replace a router, hub or switch and change IP addresses without updating the network settings on your device. Another is the device has become unplugged from the network. Once you confirm neither of those is the issue, call to see if the issue can be resolved with telephone support before having a technician dispatched.
5. Noise or Squeaking
This will require the need to have a technician come on-site to troubleshoot the source of the noise and repair.
Doing Better Business has been perfecting copier and printer repair service since 1973. If you are ready to be wowed by customer service excellence, contact us today!
A great big thank you to our Service Supervisor team for contributing to this article!