Doing Better Business, Inc., is proud and honored to be listed among so many amazing and inspiring organizations. Our promise to our customers is to make them a part of our DBB Family and we are so happy to see so many of them on this list of 2021 Top Organizations.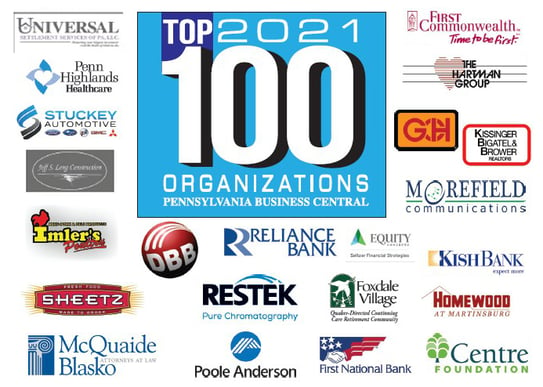 This year's Top 100 organizations bring new ideas, technology and services to our region. The PA Business Central receives a long list of nominees each year and awards based on each organization's unique and inspiring stories. Every organization is important to the thriving business community in central Pennsylvania.
With the unpredictability caused by the pandemic, the need for smart, shrewd and quick decision-making has never been more important. Doing Better Business has been able to excel through this adversity because of our great relationships with these honorees. "Many of the Top 100 organizations are part of our DBB Family and we have the highest respect for them and their leadership," said Debra Dellaposta, CEO and President. "We are fortunate to work side by side with many of the honorees to help make our communities better."
These 2021 Top 100 honorees focus more on being better than bigger. Many understand that helping to shape society is more important than owning all the resources and giving back, especially to youth development programs, is the key to all of our future successes.
Congratulations to each and everyone of these honorees and their employees. They make such a positive impact on both the living and working conditions in central Pennsylvania. They truly make central Pennsylvania an awesome place to both live and work.
You can read more about the Top 100 for 2021 Here.