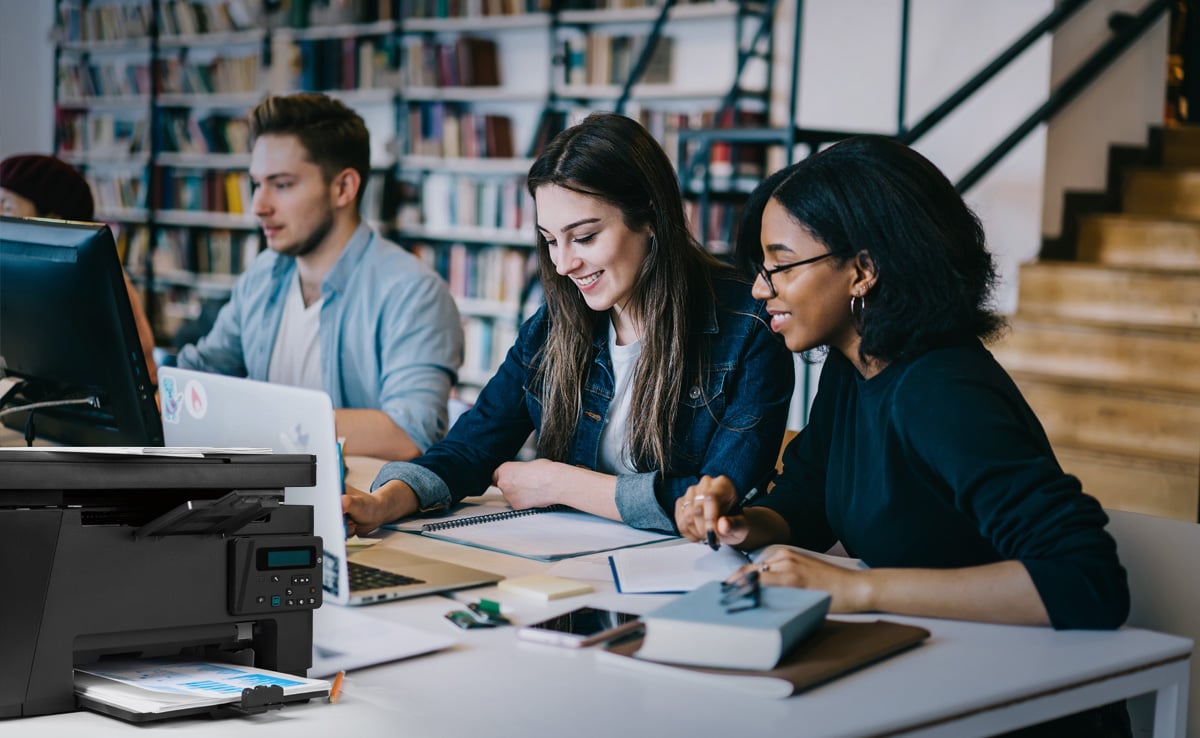 Managed print solutions aren't just for businesses – they're a smart choice for any educational institution that wants to take control of their print environment. With managed print services, a school can improve its printing efficiency, reduce overhead expenses, and improve the security of its network and document environment.
As the school year starts, many campuses find themselves overwhelmed by the demand for printing from students and faculty. From essays to lesson materials, effective printing is critical to delivering a better education experience. Here are five reasons why it's worthwhile to consider bringing on board a managed service provider that is experienced in developing printing solutions for schools.
How Managed Print Solutions Benefit Schools
A managed print service is a third-party specialist which takes over the deployment, maintenance, and management of a printing environment in an organization. By outsourcing this infrastructure, organizations can often gain access to more powerful print technology at a fraction of the cost of purchasing it outright. Additionally, organizations gain access to experienced professionals who can help strategize the most effective use of printers in an environment.
For schools, that means more appropriate devices and improved printing efficiency on campus. However, schools also benefit through:
1. Clarified and Reduced Print-Related Costs
Printing is a major expense for any organization, and school campuses are no exception. Budget bloat in printing often occurs because an organization isn't tracking supply usage or purchasing, has no control over how printers are used, and hasn't configured their devices for optimal usage. Likewise, unexpected maintenance requests can also drive up the cost of maintaining printers.
Managed print services help drive down operating costs on campus by ensuring that the school has exactly what it needs for its printing infrastructure. Supply tracking ensures that the correct paper and cartridges are ordered on time, and that scheduled preventative maintenance keeps costly breakdowns from occurring. Additionally, since many managed services use either fixed (same amount) or metered (according to use) fee structures, a school eliminates surprise bills and knows what it spends each month.
2. Reduced Campus IT Burden
When it comes to things that an IT department prefers to be doing, fixing paper jams and troubleshooting printer error codes ranks far down on the list. Unfortunately, these also represent some of the most common technology-related help desk calls to an IT department.
Managed print services take over maintenance calls to reduce the burden on the internal IT department. With the printers handled, the IT department is free to focus its energy and resources on higher-priority initiatives such as maintaining the security of the school network.
3. Better Printing Access for Students and Staff
There's nothing more frustrating than needing to print off a simple document quickly and not being able to do so because the device is overwhelmed by print requests, has a paper jam, or is physically inaccessible. Such problems reduce the overall efficiency of a print environment and frustrate users.
Managed print services are valuable to organizations because they consider the print infrastructure from the perspective of processes. This ensures the correct devices are deployed for the campus' needs, in the correct ways, with the correct supporting infrastructure. For example, where a school might think it's necessary to deploy a faster and more powerful printer in its library to keep up with print jobs, a managed print service might be able to ease the burden of an overwhelmed printer with a server that queues jobs.
4. Improved Tracking and Security
A lack of visibility is a major problem for robust, extensive print environments. It's also a serious security concern. Without visibility of the print environment, it's impossible to discern whether devices are being used appropriately and by authorized users.
The high traffic nature of schools makes it necessary to introduce security measures not just for the documents getting printed by the physical security as well. A managed print service addresses this with security at the devices themselves such as user authentication measures before a print job can be completed. Likewise, print management software helps ensure that only school-related materials get printed by students and faculty who are supposed to be there.
5. Minimized Waste
According to Edutopia, an education technology site published by the George Lucas Foundation, the average school prints 250,000 pages of paper per year – or about 830 pages per student. For any campus trying to reduce their environmental footprint, that's a huge challenge to overcome.
Managed print services assist with minimizing waste and supporting green initiatives by introducing more control in the print environment. With stronger access control and printing permissions, it's easier to reduce the amount of unnecessary printing which occurs.
If you would like to read more about our award-winning Managed Print Services Collaborations, Click HERE.
Managed Print Solutions for Schools
Managed print solutions are one of the smartest ways for schools to take control of their print environment. By introducing the right technology, security, and management strategies, campuses can develop robust and efficient printing infrastructure which supports a better education experience.
Doing Better Business knows how to develop the ideal strategy when it comes to printing for schools. Contact an office today to discuss what we can do for you.