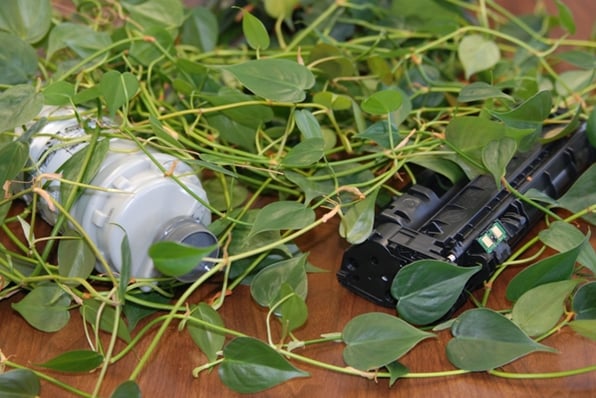 Managed Print Services (MPS) programs have been around for awhile, many were initiated to save organizations money. To improve on this concept, a well planned program can reveal opportunities to increase efficiency as well as reduce the environmental impact of the organization. This is a Win-Win for anyone searching for ways to control costs, improve operations, and reduce waste. If you are not familiar with MPS, please see our related blogs at blog.doingbetterbusiness.com/blog/tag/mps.
A basic practice of MPS is reducing the amount of printing devices, therefore reducing the following:
• Power consumption
• Space requirements
• Impact on IT infrastructure
• Supply storage
• Purchasing related expenses
• Impact on the building's cooling system
• Possible ozone emissions
The IT infrastructure is often overlooked, though very important, because every device in use requires technical support at some point. If a device is networked, there is impact on the network by using limited IP addresses and ports. As ports run out, switches or hubs are added, increasing power consumption. If a device is not networked, support and management is difficult, which adds to limited accessibility for users. The sum of these facts makes it important to limit devices as much as possible without impacting organizational goals and missions.
If we cannot eliminate a device, we want to make sure we are using the best one for the location. The evaluation includes the following:
• Supply costs
• Repair costs
• How much energy does it consume
• Will it automatically duplex to save paper
• What type of supplies are used
• Does it offer advanced technologies
Supplies are a major concern due to costs and environmental impact associated with each type. A typical desktop printer uses a cartridge that may be refillable a few times but will eventually end up in a landfill because they are not easily recycled. This is due to the numerous parts they contain and the array of materials they are made from. Many large workgroups utilize Multi Functional Printers (MFP's) that utilize separate supply components which are more cost effective and recyclable.
When planning, implementing, and training we seek to utilize advanced technologies that certain devices offer. For example, locked print provides security for print jobs and thereby enabling sensitive documents to be printed on shared devices. With this solution, security is improved and small private printers can be eliminated. Hold print and follow-me-printing eliminates commingling and loss of documents. Unclaimed documents are also eliminated when hold print is universally applied.
A well-planned program will consider improvements to processes surrounding document creation and use. Reducing output, storage, and handling of documents are improvements that lower environmental impact while cutting costs. An evaluation of the supply chain may reveal toner and other supplies that do not fit any current device. This occurs when extra supplies are kept and then suddenly the printer is replaced with another model. A plan that delivers toners when needed, rather than stockpiling, eliminates this type of waste. If a printing fleet and associated processes are not managed, they usually grow and become inefficient. If controls are put in place there are many gains to be realized; however, there is often resistance to change by users for one reason or another. Awareness of the benefits for environmental and financial reasons will often increase the acceptance of change.
Doing Better Business has 47 years of experience helping businesses large and small refine their processes and workflow. Contact us today to start a conversation about how we can help you succeed with MPS or Green Initiatives.