BUSINESS ALLIANCE INSIDER | VOLUME 7 | MAR. 2021

BUSINESS SPOTLIGHT: DOING BETTER BUSINESS
The Pittsburgh Riverhounds work to promote communication between local businesses within our community.
Their Business Alliance Insider provides members an opportunity to engage fans and connect with other local businesses. In the March edition, they chose to spotlight Doing Better Business and Deborah Noonan.
Q: How long have you been with Doing Better Business?

A: I have been a Business Relationship Manager for DBB for the past 6 years. Prior to joining the DBB team I was a paraprofessional in the Peters Twp. School District for 12 years and before that I was an Account Executive with Van Dyk Business Systems for 16 years.

Q: Who is Doing Better Business?

A: DBB is a nationally recognized and women-owned business which has kept things local and family-owned since 1973. As an Authorized Dealer for Sharp Electronics, Ricoh and HP digital products we are routinely recognized as leaders in our industry, paving the way into the future with cutting-edge solutions.

The secret to our success is that we're built on a foundation of putting people first. Whether developing technology solutions which help businesses do what they do best or helping organizations acquire the highest quality office technology products, we believe in innovation, integrity, and delivering unparalleled customer experience.

We strive to be a trusted business partner to our clients by providing superior technology services alongside the best practices of the industry. We focus on improving efficiency, sustaining the environment, and growing the bottom line. Each of these has one end goal in mind: helping you do better business.

Q: Where are you located and what areas do you service?

A: DBB headquarters: Altoona, Pennsylvania.

I work out of the Pittsburgh office which is located at: 2735 Railroad Street in the

Strip District. We have six additional locations in PA, MD and Ohio and service PA and the (4) surrounding states. We also partner with authorized dealers nationwide for all (3) of our manufacturers.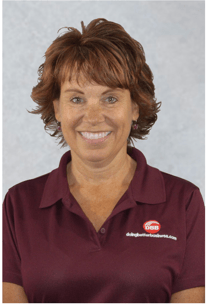 Q: How many employees do you have?

A: As of today, we have 78 employees consisting of 21 administrative and support, 26 sales and marketing, and 31 on service and support.

Q: Tell us about your products and services?

A: DBB is an Authorized Dealer for Sharp Electronics, Ricoh and HP. We believe partnerships are not just good for communities, they're good for business all around. Partnerships enable an increased array of offerings and a deeper insight into the office technology industry. They give us the tools we need to develop reliable and valuable technology solutions for businesses large and small. It's our customers who ultimately benefit, so we select partnerships with our present and future clients in mind.

Q: How does Doing Better Business make an impact in the local community?

A: DBB makes an impact in multiple ways, in most of our communities. DBB operates in more than 60 counties throughout 5 states. From a philanthropic point of view, DBB and our staff are involved with dozens of community organizations and DBB is a major sponsor at many community events. We sponsor bowling teams, soccer clubs, baseball, volleyball, and many youth activities. We are heavily involved with Boys & Girls Club, Girl's Inc., YMCA, just to name a few. In addition to sponsoring events and participating on boards, DBB also works with these organizations to help them be more efficient and spend less money on admin and more money on their core missions. This goes for all of our customers. By helping our customers "Do Better Business", we like to believe that those companies also are able to spend a little more with their community involvement and it is a win-win for everyone.

Q: How have you had to change due to Covid-19?

A: It's been a challenging adjustment to say the least. Initially we had days where our average activity level was as low as 10-20 percent of normal. This forced us to have to make pretty big decisions, quickly and early. Throughout 2020, we ultimately ended the year with more than 70% activity, and heading into 2021 we hope to see a full recovery by year end. Being a service organization, and having to visit our customers, on-site, we quickly developed safety procedures to protect our employees and our customers. Technicians wear masks, carry sanitizers, and thoroughly clean the equipment after repair. Sales and Marketing interacts with customers largely on virtual calls using 8x8, Zoom, and Microsoft Teams. Proposals are mostly provided digitally along with educational and supporting documentation. While we have had some experiences with Covid 19, we have been fortunate enough to not experience any severe or critical cases. Protocols are in place to minimize any possible contamination and spread. If you don't feel well, stay home and get tested. Any personal contact with covid 19 requires quarantine and testing before returning to work. To help our customers operate in a safe way, we also added GoSafe Temperature Scanners and Entryway Management Devices to our product portfolio.

Q: What type of clients are you looking for?

A: I am open and welcome introductions to any business partners to build mutually beneficial relationships and expand upon networking opportunities.

Q: Why are you excited to join the Business Alliance?

A: I am excited to be a part of a growing Business Alliance group, while at the same time giving back to the Greater Pittsburgh Area and once again attending a soccer game.