Founded in 1926, the Business Technology Association (BTA) serves office technology dealerships, resellers, manufacturers, distributors and service companies. The core members', office technology dealerships, primary goal is to help businesses optimize business document and information workflows.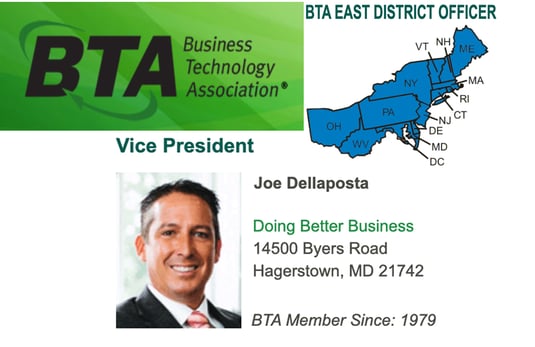 Joseph (Joe) Dellaposta was recently elected to serve as Vice President of the East District and attended the recent "Spring Break" Meeting in Orlando, Florida.
"It was great to be able to get together with our peers and network again." said Dellaposta, "Dealers were able to attend some great educational seminars which will only help improve our dealerships."
Dellaposta is the Chief Operations Officer at Doing Better Business and is a co-owner with his two sisters, Beth and Debra Dellaposta. He has been working in the industry and attending BTA events since he was young child. Officially joining the business in 2002, Dellaposta has been instrumental in the acquisitions of Van Dyk Business Systems, Total Service, Inc., and Pro Business Systems, and the overall growth from two locations to seven, across five states.
He believes in giving back to both his community and the industry. He has served on the Ricoh National Dealer Council and is currently on the Board of Directors for The Boys and Girls Club of Washington County, MD.
"I am excited to work with our current President, Dave Scibetta, who is also a member of our Select Dealer Group (SDG), and the amazing team at the BTA" said Dellaposta.
Dellaposta earned his Bachelor of Science in Business Management from the University of Maryland and his Master of Business Administration from Frostburg State University.
In his leisure time, he enjoys golfing, traveling and spending time with his family.
For more information about the BTA, visit https://www.bta.org/page/BTAEastOfficers