We are so excited to have one of our team members and several of our clients and friends make the list for 2022. The Pennsylvania Business Central selectees were picked from a long list of nominations throughout a 23-county readership. Each professional featured in this year's edition exemplifies the vision, drive and determination needed to find success in business. We congratulate all the winners and especially, Destinee Pfirsching who puts everything into her work and giving back to the community.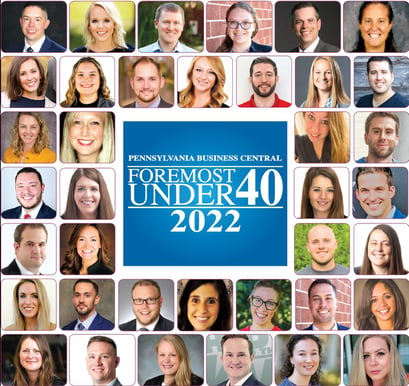 Now more than ever, the rising generation of business leaders are providing a shining example of drive and determination necessary to adapt and succeed in a rapidly changing economic environment. The 38 young professionals showcased in the 2022 Foremost Under 40 edition exemplify the vision and dedication needed to excel in ever more competitive world. Each year, the Pennsylvania Business Central editorial board reaches out to executives, chambers of commerce, community leaders and readers to send in nominations for selection. The result is a dazzling display of the dynamic diversity of the Central Pennsylvania business community. The winners this year include entrepreneurs striking out on their first startups, industry professionals rising through the ranks and community caregivers who put everything into their work. The selection committee based its final selections on nominees who have made a positive impact on the Central Pennsylvania business community by consistently moving their business forward, adapting to major changes in their personal and professional life and giving back to the community through volunteering or mentoring.
Learn more about why Destinee Pfirsching was selected.