For the past twenty one years, Doing Better Business (and previously Word Processing Services) has been proudly recognized as an Elite Dealer. ENX Magazine and ENX The Week In Imaging, announced the 2021 list of Elite Dealers in October and complete profiles of the 120 award recipients are featured in the December issue of ENX Magazine.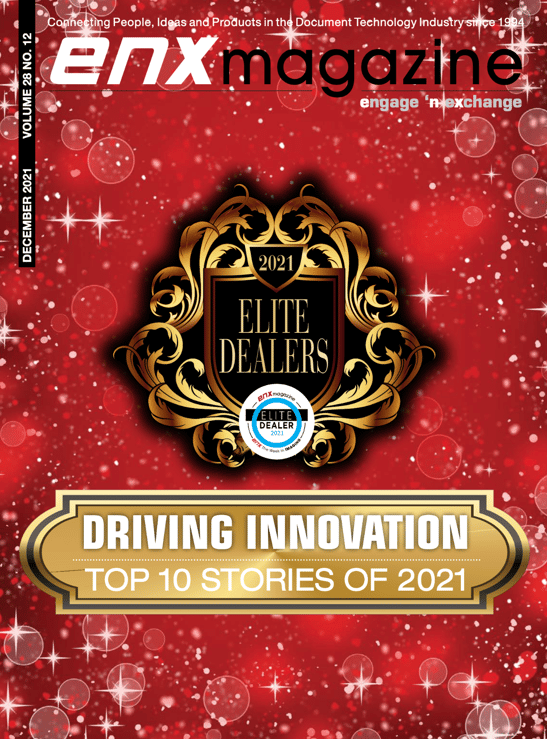 "We salute this year's cast of Elite Dealers, who continue to demonstrate an unwavering commitment to customer and technical service excellence in the face of unprecedented challenges," said Susan Neimes, managing editor of ENX Magazine and ENX The Week In Imaging.
"We are always honored to be recognized by ENX Magazine," said Joseph Dellaposta, Owner and Chief Operating Officer of Doing Better Business. "Being able to celebrate our team's success, especially with Industry recognition, is always a big boost to morale. We always say Happy Team, Happy Customers."
Each year, ENX Magazine judges Elite Dealer applicants on a number of criteria, from technical service excellence to marketing proficiency, growth initiatives, technology leadership, industry accolades and philanthropy. Those dealers chosen were profiled in the December issue of ENX Magazine.
Niemes added "Each dealer has exhibited unparalleled resilience in continuing to adapt to the evolving needs of their customer base. At the same time, the Elite Dealer is mindful of preserving internal jobs and fostering a family-based culture, because their people are the face of the organization. This year's list is a testament to teamwork and unity."
Doing Better Business, Inc., is headquartered in Altoona, PA and has seven other offices located strategically across Pennsylvania, Maryland, West Virginia, Virginia and Ohio. DBB is the largest independently and women owned dealership in the region. DBB is laser focused on customer service excellence and providing the best technology to help their clients do better business.
Why We Consider Doing Better Business Elite:
Marketing Fun.In an effort to lighten the mood during a
difficult period, Doing Better Business rolled out a pair of enjoyable marketing campaigns—Jovial Joe's Specials and Talking Fur Babies. The dealer enjoyed success with its GoSafe thermal and facial recognition scanners, which helped local businesses and schools return to the workplace.
Client success. Doing Better Business enjoyed a banner year with digital documents and document management solutions. Government entities provided a pair of solid takedowns, including a large backfile scanning project for a local county. The dealer also implemented a Laserfiche solution for another county government, a pact that included a significant MPS component.
Customer feedback. Doing Better Business believes happy employees equate to happy customers, and its objective to make customers members of its family is a main point of differentiation. In creating a culture of family and open communications, the company receives positive client feedback daily, but insists on continuously learning and growing to become an even better provider.
Industry Honors. The dealer has received CEO Juice's Top Ten Award in consecutive years. A GreatAmerica Dealer of Distinction, Doing Better Business also garnered Sharp Platinum Service Provider and Ricoh Circle of Excellence honors.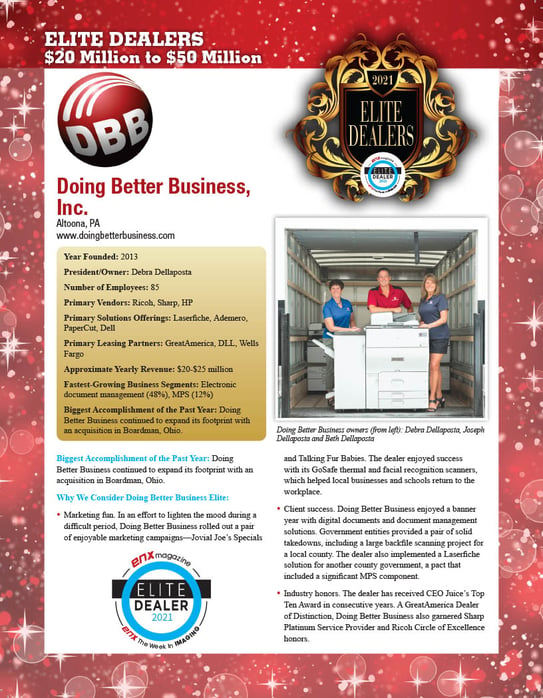 About ENX Magazine
ENX Magazine is a monthly publication dedicated to the office technology and document imaging industry since 1994. Now in its 28th year, ENX Magazine continues to deliver exclusive editorial coverage on market opportunities and issues, news and trends, company profiles, new products, and industry insights. With a monthly circulation of more than 25,000 hard copies, ENX Magazine serves as a leading integrated resource that brings together industry people, products, and business concepts and strategies for office technology industry professionals.