For the past twenty years, Doing Better Business (and previously Word Processing Services) has been proudly recognized as an Elite Dealer. Affinity Business Communications, publisher of ENX Magazine and ENX The Week In Imaging, announced the 2020 list of Elite Dealers in October and complete profiles of the 117 award recipients are featured in the December issue of ENX Magazine.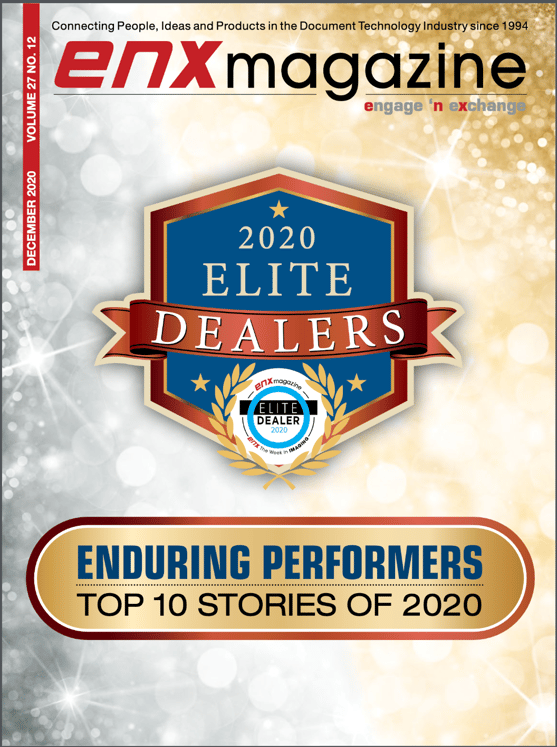 "We would like to congratulate our 2020 Elite Dealers, who had change thrust upon them. They are enduring the greatest threat to business since the Great Depression." said Susan Neimes, managing editor of ENX Magazine and ENX The Week In Imaging.
"This year is even more significant to be named an Elite Dealer, especially with 20 less dealers achieving this honor." said Joe Dellaposta, Owner and Chief Operating Officer of Doing Better Business, "As a family business with family as one of our core values, this year of the pandemic has been challenging. We have an amazing team who has really stepped up and helped our clients to keep their doors open and continue to do better business."
In any other year, success would be measured by the bottom line, profit growth, net-new business, an expanded workforce and product/service enhancements. While it is true that we took all of that into consideration in gauging the worthiness of Elite Dealer applicants, bonus points went to those dealers that outlined their pandemic pivot.
For years, we have explained the subjective nature of an Elite Dealer and the difficulty in using universally accepted analytics that can apply a number to greatness. But there are qualities that speak to their ability to accept (if not embrace) change, and the willingness to craft an approach that best fits the needs of customers, employees, partners and the overall vitality of the business.
Why We Consider Doing Better Business Elite:
Net-new initiative. Doing Better Business created an inside sales team to expand net-new customers. The team, quarterbacked by a veteran marketing specialist, follows a structured process to gain information, target the marketing at a specific cadence and provide leads/appointments for the outside sales team.
Commercial success. A strong provider for the educational space, Doing Better Business pivoted to commercial accounts this year and was able to incorporate software and visual communications tools into many MPS programs. The dealer netted a global account for interactive flat-panel displays.
Customer feedback. Doing Better Business believes happy employees equate to happy customers, and its objective to make customers members of its family is a main point of differentiation. In creating a culture of family and open communications, the company receives positive client feedback daily, but insists on continuously learning and growing to become an even better provider.
Team acknowledgement. Doing Better Business shares the 200-plus monthly surveys it receives from clients with its team and uses an internal messaging app to reward them for customer service excellence. The feedback and coaching help team members improve, and the dealer provides instant rewards and quarterly/annual recognitions to validate outstanding performance.
About ENX Magazine
ENX Magazine is a monthly publication dedicated to the document technology industry since 1994. Now in its 25th year, ENX Magazine continues to deliver exclusive editorial coverage on market opportunities and issues, news and trends, company profiles, new products, and industry insights through interviews with key players in all segments of the document technology industry. With a circulation of more than 28,000 hard copies, ENX Magazine is the leading integrated resource that brings together industry people, products, and business concepts and strategies for document technology industry professionals.