For the past nineteen years, Doing Better Business (and previously Word Processing Services) has been proudly recognized as an Elite Office Dealer. Affinity Business Communications, publisher of ENX Magazine and ENX The Week In Imaging, announced the 2019 list of Elite Dealers in October and complete profiles of the 137 award recipients will be featured in the December issue of ENX Magazine.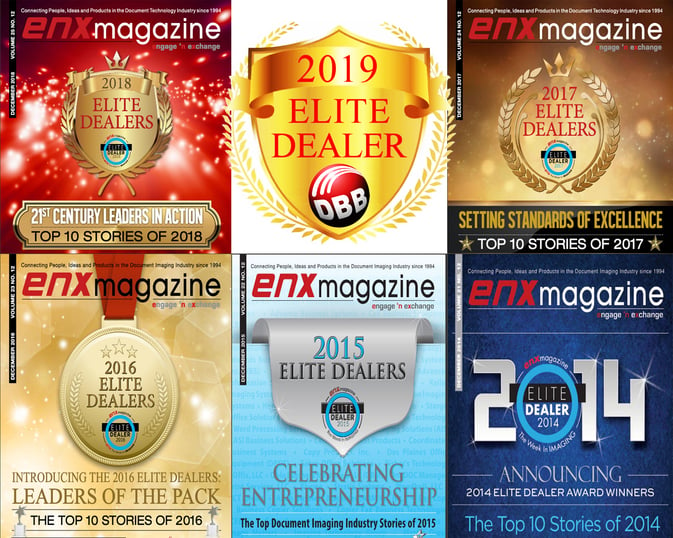 "We would like to congratulate our 2019 Elite Dealers, who continue to thrive and grow in a highly-competitive marketplace. Even as the needs of their clients continue to evolve, these dealers blend many 21st century tools and tactics with old-fashioned customer service—backed by a loyal workforce—to ensure successful outcomes," said Susan Neimes, managing editor of ENX Magazine and ENX The Week In Imaging.
"It is always a nice and well deserved recognition for our team when we are named as an Elite Dealer." said Joe Dellaposta, Owner and Chief Operating Officer of Doing Better Business, "As a family business, our culture and business practices provide our team the ability to be very accommodating and flexible. We receive a lot of feedback about how easy and enjoyable it is doing business with our DBB Family!"
About ENX Magazine
ENX Magazine is a monthly publication dedicated to the document technology industry since 1994. Now in its 25th year, ENX Magazine continues to deliver exclusive editorial coverage on market opportunities and issues, news and trends, company profiles, new products, and industry insights through interviews with key players in all segments of the document technology industry. With a circulation of more than 28,000 hard copies, ENX Magazine is the leading integrated resource that brings together industry people, products, and business concepts and strategies for document technology industry professionals.