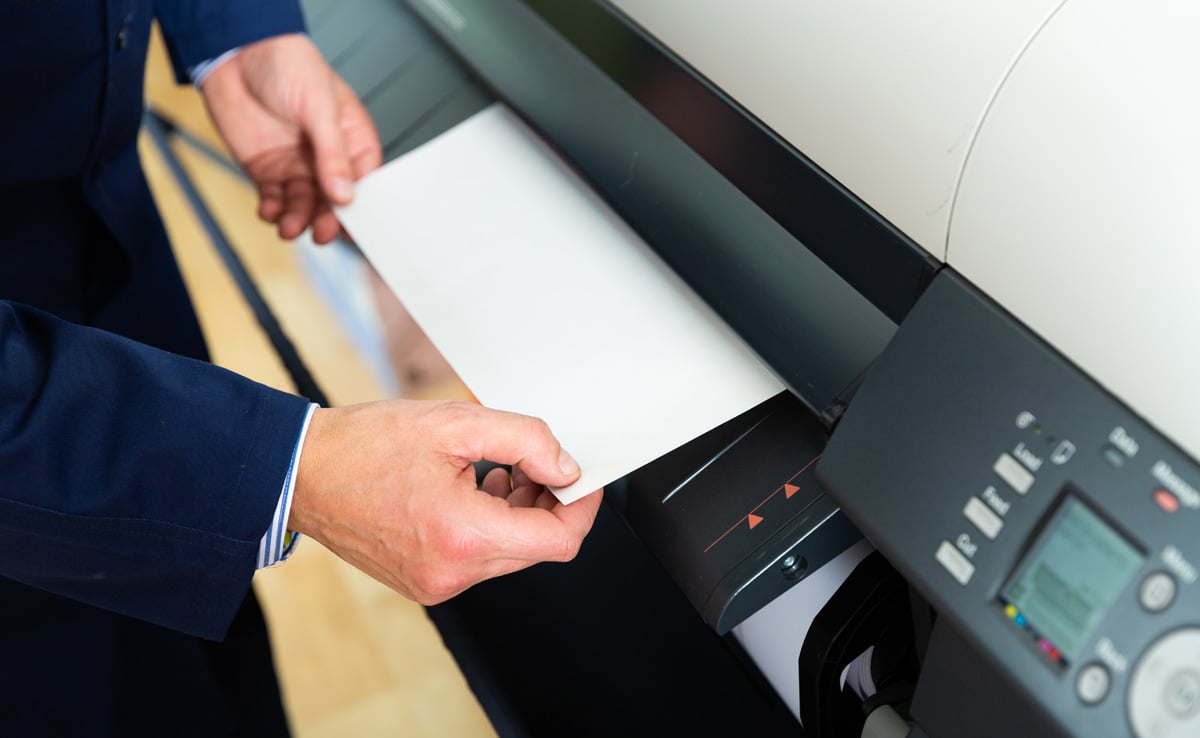 A wide format printer is a large printer that can print materials up to 100 inches wide or more. Wide-format printers are commonly found in professional printing shops, but they also are valuable to retailers. Read on to discover why more retail stores should have wide format printers in-house.
Benefits of Wide Format Printers
Wide-format printers are useful for many different purposes. They're also some of the most versatile and reliable printers available today.
There are many benefits to wide format printers, including:
Large output unmatched by traditional desktop printers
High-quality images, with precise detail enabled by advanced technology using microscopic ink droplets
Speed – up to 15 posters in one hour
Since wide-format printers can rapidly produce large-format prints with high-quality images, they are particularly suited for businesses that need to create engaging materials for their customers. In particular, they're perfect for use in the retail environment.
Three Key Reasons to Use Wide Format Printers in Retail
There are numerous reasons why many retail stores view wide format printers as essential retail equipment. Here are the three most important ones.
Affordability
Yes, a wide format printer costs more than a typical desktop business printer. However, printing promotional materials in-house can save considerable money over outsourcing those large-format print jobs. A business can significantly cut printing costs by using a wide format printer to bring printing of large materials in-house.
Versatility
Visuals in a store increase message retention by 42%, and wide format printers can be used to print all manner of visual promotional materials. From signs and posters to window clings and banners, size is no longer a limitation.
Convenience
When a retailer needs signs, posters, or other promotional materials quickly, there is no substitute for having an in-house wide format printer. Outsourcing a large-format print job can take days; with an in-house printer, ideas can be translated into finished materials in a matter of minutes.
Retail Uses for Wide Format Printers
The types of promotional materials that retailers can print with a wide format printer are almost limitless. A wide format printer can produce items as small as a hangtag and as large as a complete POP display, on paper, cloth, vinyl, and other materials.
Banners
A hanging banner can draw attention to sale merchandise or a specific section of the store. Banners are also great for announcing special events.
Wide-format printers can create banners up to 100 feet in length and of many different materials suitable for indoor, outdoor, and mobile uses. Fabric banners are perfect for use inside the store, while vinyl banners are more durable for outdoor use. Mesh banners are even better for windy conditions outdoors.
Ceiling Danglers
Ceiling dangers are smaller than banners but also useful for drawing attention to specific merchandise or sections. Print custom shapes on cardboard for best durability and visibility.
Displays and Exhibits
Only a wide format printer can produce all the graphics and parts necessary for a large POP display or other large exhibits. Print entire panels or walls in one pass, with high-resolution color graphics, all of which are perfect for use in convenience stores, specialty stores, big box stores, and more.
Floor Graphics and Decals
Retailers can turn their floors into powerful marketing space with color floor graphics and decals. Wide-format printers can easily print floor graphics of any shape onto vinyl or other durable material.
Posters
From small posters to big ones, wide format printers can handle the job. Posters are perfect for store windows, endcaps, and walls, and the high-quality graphics capable with wide format printers enable any store to go as big as they want – one poster at a time or more.
Signage
Wide-format printers are perfect for printing both indoor and outdoor signage. Print POS signs, menu boards, endcap headers, and more, for any type of business.
Wall Graphics
Use wide format printers to create wall graphics of all types, from temporary decals to custom wallpaper. Retailers can also use wide format printers to create high-resolution custom murals for their stores.
Window Clings and Decals
Retailers can use window clings and decals to convince passers-by to come into their stores. A wide format printer can print on vinyl and other removable materials to take advantage of available window space.
Choose Doing Better Business for Your Wide-Format Printer Needs
Doing Better Business offers a variety of wide-format printers to consumers, including HP, Lexmark, Ricoh, and Sharp. Our experienced salespeople can help your business choose the right printer for your needs – and help you get the most out of it. We're with you from initial delivery and setup through any continuing support you might need. Our job is to help make your job easier.
Contact Doing Better Business today to learn more about wide format printers.