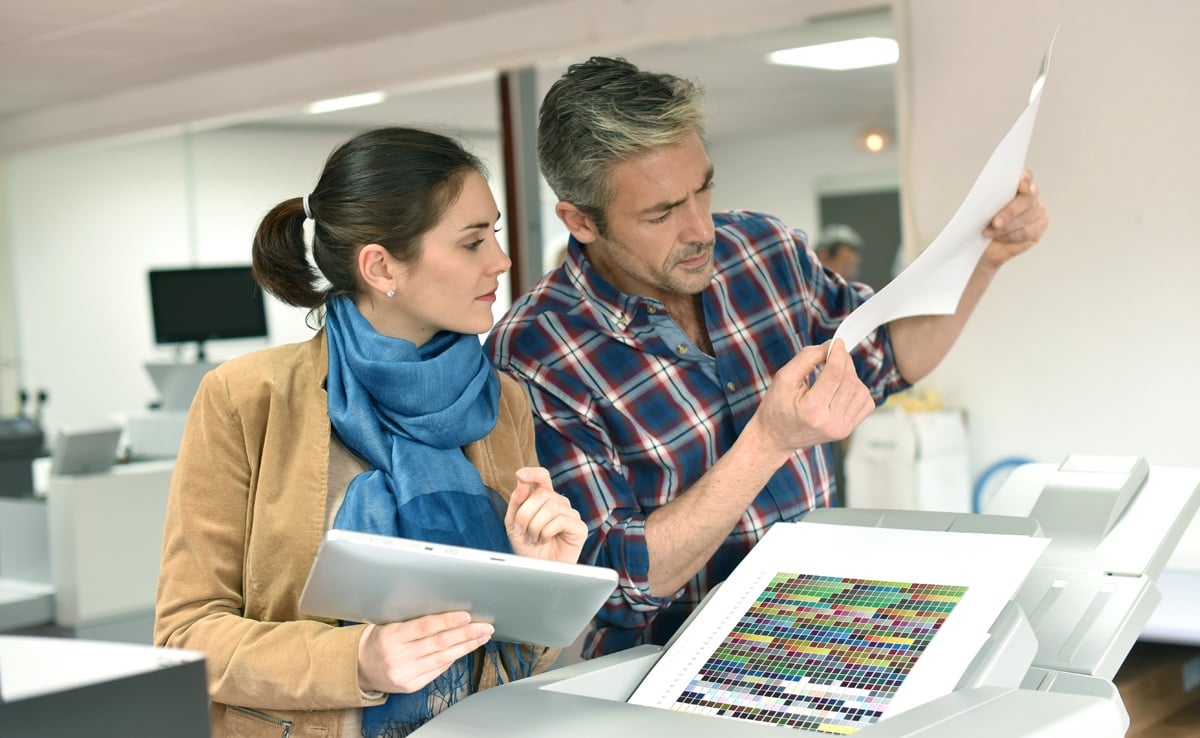 More and more businesses are outsourcing their printer fleet to providers that offer managed print services. What are managed print services and why would a business want to go that route?
Understanding Managed Print Services
Managed print services (MPS) are services offered by third-party providers to manage a company's document output. This typically involves managing the company's fleet of printing devices – printers, scanners, copiers, fax machines, and multifunction printers (MFPs) – and all necessary supplies and maintenance.
A firm offering MPS, such as Doing Better Business, analyzes the company's current printer inventory, printing activity, and document output needs. The MPS provider takes over the company's entire printing process, from printer maintenance and replacement to document management.
6 Key Benefits of Managed Print Service
By monitoring and tightly controlling all print-related activities, managed print services help streamline a company's print usage, and reduce overall costs. This results in multiple benefits to the company.
Reduce Support Needs
A Gartner survey found that up to half of a typical company's help desk calls are printer related. In a traditional environment, the company's IT staff is responsible for supporting and maintaining all print devices. The internal staff has to stock and replenish toner and other supplies, and individual departments are responsible for ordering the right supplies and calling the IT department when problems arise.
With managed print services, all maintenance is performed on an ongoing basis, and supplies are automatically monitored and replenished. Regular maintenance helps printers stay up and running without the need for costly repairs. Employees spend less time ordering supplies and dealing with device malfunctions – which results in a more productive workforce.
Cut Business Costs
Performing necessary maintenance regularly, instead of fixing machines when they break, saves the company more money over the long term. Regular maintenance costs considerably less than making costly repairs – or purchasing new printers to replace broken ones.
An MPS provider can also save companies money by more efficiently stocking print supplies. MPS providers constantly monitor printer usage and know when toner and other supplies are needed before they run out. This enables the MPS to purchase bulk quantities at a lower price – and avoid stocking unnecessary toner for the wrong model printers.
Also, managed print services help companies improve efficiency by printing fewer pages – only those that are needed. Surveys have found that the typical office worker spends $725 in printing costs each year. MPS can reduce the amount of printing and the costs involved by up to 30%.
Reduce Capital Expenditures
Another way that MPS reduces costs is by spreading out the cost of purchasing new printers and MFPs. Most MPS providers offer long-term payment plans for new devices or even lease hardware to their clients as part of their monthly or pay-per-page fees. That means lower capital expenditures – which directly impacts any company's bottom line.
Improve Agility
Managed print services help organizations quickly adapt to changing needs. The MPS provider can easily move existing printers from a slow-growth or low-need area to one with increased printing needs. Also, MPS providers can quickly install new printers, if needed. Advanced monitoring and analysis help the MFP provider predict and plan for changes in printing needs.
Manage Remote Printing
An increasing number of employees are working from home today, and managed print services make it easier to set up and manage remote printing for those employees. This can often be done with little or no expenditure on new equipment. The MPS provider handles the setup and training for each remote employee and manages the process to make sure that it works for all involved.
Strengthen Document Security
Document and data security are essential for all businesses. Managed print services strengthen security in several ways.
First, by reducing the number of pages printed, more data is stored digitally, which is easier to secure. Second, the MPS provider works with IT staff to introduce more secure printing technology and processes to the organization. Besides, by analyzing the company's printing services, the MPS provider can identify document-related security risks that can then be addressed by the IT department. Finally, by using just one provider for all the organization's printing needs, it helps to reduce the number of people and companies with access to the organization's networked devices.
Let Doing Better Business Handle Your Company's Managed Print Services
Doing Better Business has been helping businesses be more productive for over 40 years. We offer printers from HP, Lexmark, Ricoh, and Sharp and a variety of managed print services. Our imaging experts help plan, implement, and monitor your organization's complete print environment, as well as automate all supply replenishment. We offer custom print management solutions based on your company's current and future needs.
Contact Doing Better Business today to learn more about our managed print services.