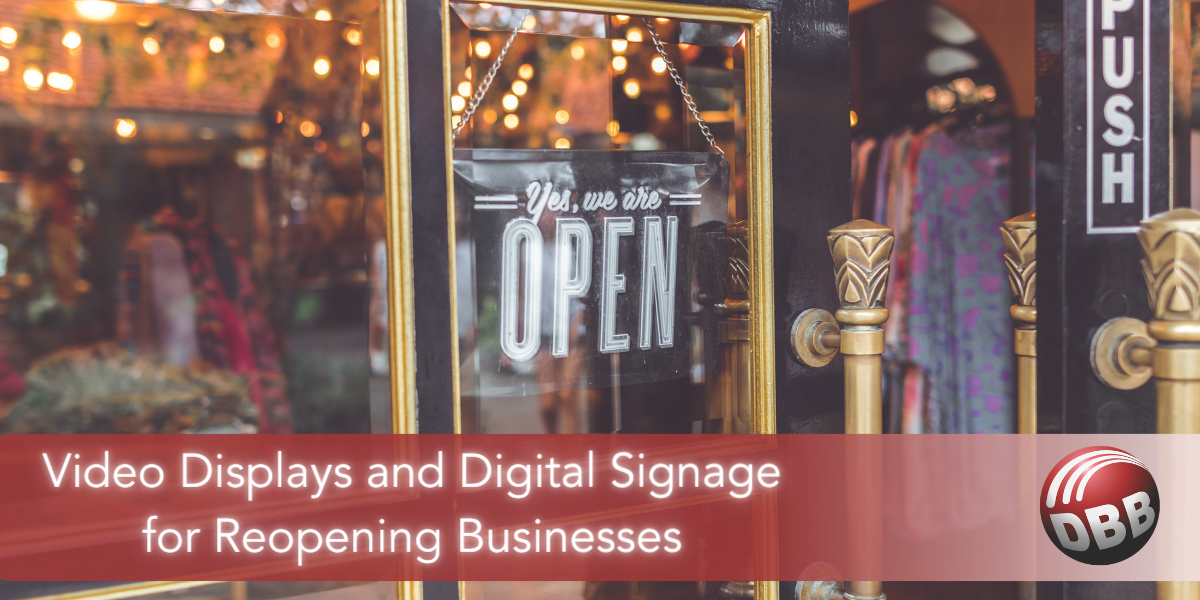 Video displays have been one of the biggest trends in the business world, and for good reason. A large video wall cannot only be functional, it can be seen as a status symbol for companies looking to impress clients and potential customers.
Businesses as diverse as restaurants, retail establishments, auto repair shops, and salons can benefit from digital signage during reopening. While digital signage is often marketed as a way to reach a more upscale clientele, it can also be used to attract and engage customers at all socio-economic levels.
Commercial video displays have come down in price and are now in reach of businesses of all sizes. For companies reopening from a coronavirus lockdown, getting and retaining customers is now more important than ever for business survival.
The Business Benefits of Video Displays or a Video Wall
With modern consumers so used to interactive entertainment and technologies, businesses need to up the ante to get the attention of a potential customer. Today's modern video displays – or even a full-fledged video wall – can generate that customer engagement through a variety of means. Here are just some of the few benefits of video displays and modern digital signage:
Video Signage Can Display Information to Customers
Video signs and walls can display information for customers – from impersonal advertisements to targeted information. On the most banal level, video displays can help a customer find out where they are at (say in a mall) and direct them to their desired destination. Video content can even be designed to "react" and respond to visitors through the use of cameras that gauge customer reaction.
Video Displays Provide Dynamic Visuals with Videos, Animations, and Interactivity
Video, done well, can provide that "wow" factor that can really set your company apart. For higher-end companies, large video walls do more than just impress visitors at a corporate headquarters. They create an immersive "brand experience" that is not just designed for customers, but these displays create an environment that is desired and valued by employees as well.
Video Display Screens Can Be Disinfected and Cleaned Regularly
In the era of coronavirus, sanitation of surfaces is paramount. The great thing about video display screens is that they are easily cleaned and disinfected. Digital display screens can also potentially reduce the need for human contact on the surface.
For example, a restaurant can use digital signage to display the day's specials instead of requiring the display to be updated manually via chalk by different wait staff during the day. Promotions and specials could actually be planned out and programmed to be displayed on a schedule a week in advance.
Current Technology Advances in Video Displays
Video displays and digital signage come in all shapes and sizes, from smaller point of purchase displays to large video walls. The newer LED video displays are actually cheaper, more energy efficient, and brighter than the older LCD screens. Standard video screens can also be used in both portrait and horizontal mode to provide the perfect digital accent or video information hub.
Video displays aren't just used in the corporate headquarters entrance – they are now being used in the boardroom to support company presentations. Interactive whiteboard technology can make these screens more than just a one-way display but enable two-way interactivity with the screen via touch.
For schools, healthcare organizations, and companies that need to screen for high temperatures to prevent coronavirus spread, new video technologies can have an added benefit. Some video systems can be used to take temperature and even screen visitors for face mask compliance. Facial recognition technologies can also help identify who should and should not enter restricted areas. All of these technologies are very helpful for companies reopening after a coronavirus lockdown.
Video Displays for Better Customer Communication and Engagement
With the costs of LED video displays going down, and so many ways to use them, digital signage and video walls are transforming businesses. In the competitive, post-coronavirus lockdown environment, businesses need all the help they can get to attract and retain customers. At Doing Better Business, Inc., we are experts in the latest video display technologies for businesses, schools, and organizations. We can help you plan and select the right video solution for your needs.
We help you do better business. For help with all your video display and digital signage needs, as well as a full range of technology to tackle COVID-19, contact us today.