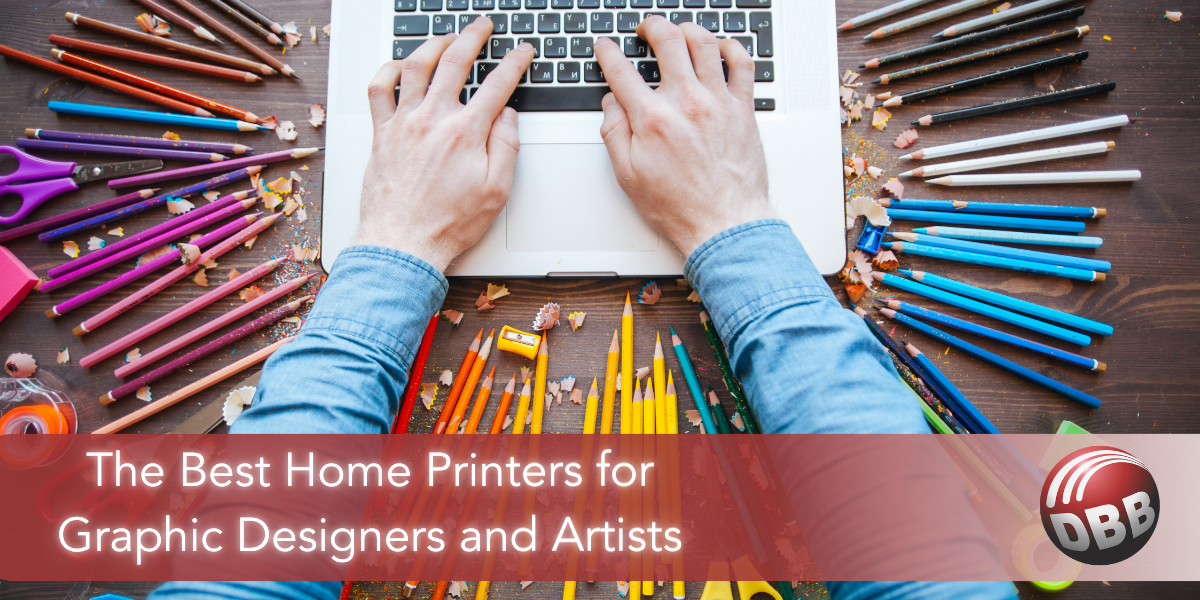 Graphic designers and visual artists who work from home need the best home printers to facilitate design creation. Fortunately, many great printing options exist for the professional graphic designer. The best printers for artists, however, aren't necessarily the ones you'd find in a big box store. A professional-class color printer or MFP (or multifunction printer) can make a huge difference in productivity and profits.
Benefits of the Best Home Printers for Graphic Designers
Professional graphic designers and artists work with color as one of their main tools, so having a reliable color printer is essential. The best home printers for graphic artists can help with many aspects of daily work.
The Best Printers for Artists Can Be a Cost-Effective Way to Create Saleable Pieces
For artists who sell their work at local art shows and exhibits, a quality home printer can provide an easy, cost-effective way to produce saleable prints. That said, just buying any old inkjet printer won't do. You will need to get a high-quality inkjet printer with photographer-grade pigmented inks to create commercial prints that last.
The Best Home Printers Can Help Graphic Designers Preview Prints
When graphic designers work at home, they need professional tools to preview prints. The type of printer you will need for your proofing depends on the specific needs. For speed, a color laser printer cannot be beat. However, for more vibrant color, an inkjet printer may be better.
Find Out What At-Home Printer Best Fits Your Graphic Design Needs
As we discussed a little bit above, there are different options among the best home printers for graphic designers and visual artists. Before buying or leasing a printer for a home graphic design office, assess first what needs exist and which features are the most important. Here are a few types of printers to choose from:
1. Inkjet Printer – Dye-Based Inks
The majority of inkjet printers on the market use dye-based inks. These inks are water-soluble and seep into the paper to create the print. The most obvious benefit of dye-based inks is their vibrancy and strength of color. They work well with all different types of paper. The downside is that prints can blur if they get wet, and they tend to fade over time – sometimes quickly. While modern dye-based inks are more stable than previous incarnations, they are still prone to lose color and thus are not archival-quality inks.
2. Inkjet Printer – Pigment-Based Inks
To make a photographer quality print with an inkjet printer, pigment-based inks are generally preferred. While they are duller than dye-based inks, they last a lot longer – years longer. Pigment-based inks are not water-soluble. The ink adheres to the surface of the paper instead of soaking into it as with a dye-based ink. While the pigment-based ink could come off if scratched, it will not blur easily. Dye-based and pigment-based inks are not interchangeable in most inkjet printers. Make sure you get an inkjet that accepts pigment-based inks if that is what you need.
3. Laser or LED Printers
Laser or LED printers use lasers or LED lights to adhere toner to the page to create prints. They are quite fast, and the prints can last long, but the color is not as vibrant as what you get from inkjet printers. The cost to print per page is almost always cheaper, however. LED printers are a newer technology and use fewer moving parts, which makes them more energy-efficient and better for the environment.
4. Multifunction Printers (MFPs)
A multifunction printer does more than just print – it can print, scan, copy, and sometimes fax. These printers may be useful for graphic designers who need to scan in collateral or other images to incorporate into their design work. MFPs can save on office space by combining printer and scanner functions into one.
5. Wide-Format Printers
Many of the above printer types, including MFPs, come in wide-format versions. A wide-format printer will enable you to print out larger prints, bigger than the standard 8.5 x 11" size. These are the best printers to get if you plan on printing out posters or other larger materials.
Get the Best, Most Up-to-Date Printers for Artists
Your choice of a printer will depend on the types of projects and your budget. On the low end you could get an HP ENVY 5055 Wireless All-in-One Photo Printer. For color laser printers, the Lexmark CS410dtn Color Laser Printer is a good choice. At Doing Better Business, Inc., we are experts in printers as well as authorized dealers of Ricoh, HP, Lexmark, Fujitsu, and Sharp printers. Whether you want to lease or buy, we can help you choose from the most up-to-date equipment
We help you do better business. Get the most up-to-date equipment with our selection of printers and MFPs. For help with all your printing needs, contact us today.