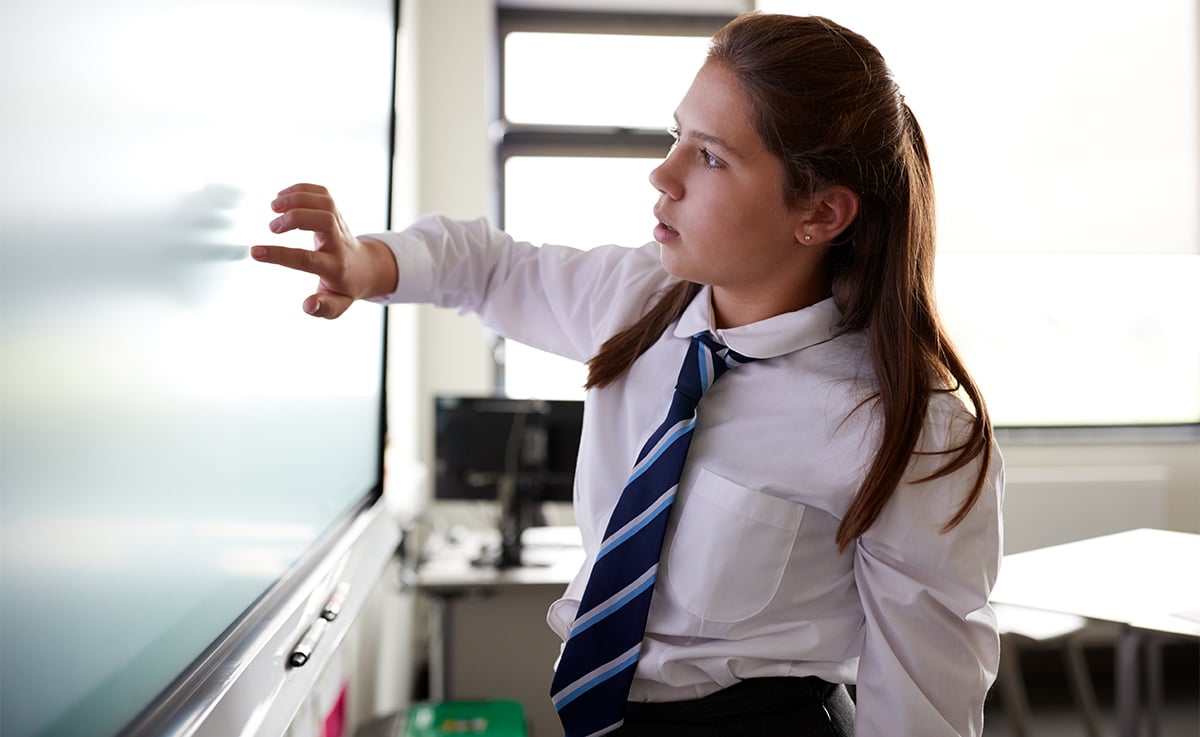 The teaching experience has evolved through chalkboards to dry erase whiteboards to in-class smartboards to today's Internet-enabled interactive whiteboards. Each new iteration has embraced then-new technology to enhance teacher-student interaction. Today's online interactive whiteboards have been especially beneficial during the COVID-19 crisis, which has forced distance learning on millions of students across the country. In fact, many educators believe that interactive whiteboards are helping to reinvent education today.
Understanding Interactive Whiteboard Technology
Today's interactive whiteboard technology enables all the functions of traditional whiteboards, but online in collaborative video classrooms. Teachers "draw" on an interactive whiteboard, and students see the content on their own devices at home. Students can answer back by drawing on their own screens, which are then seen by the teacher and other students.
Interactive whiteboards also enable teachers to share other content online – pictures, videos, sound files, infographics, and more. Everything presented on the whiteboard is displayed in real-time and recorded for future student use. This way, students can revisit a classroom session at their own time and place.
How Interactive Whiteboards are Changing Distance Learning
The use of interactive whiteboard technology is changing the face of distance learning – a necessary improvement when students are forced to learn at home due to social distancing guidelines.
Creating Real-Time Connections
Too much of the early "crisis learning" associated with COVID-mandated school closings consisted of canned videos, additional reading, and excess homework, none of which fully engaged students forced to learn on their own. The EdWeek Research Center found that more than three-quarters of students were somewhat or much less engaged during this period than they were in the classroom. This may be because almost a third of teachers never or seldom interacted with the majority of their students. Fully 21% of students were effectively "absent" during this period, not making any contact with their teachers.
The use of interactive whiteboard technology can remedy this lack of engagement. By employing interactive whiteboards, teachers can communicate and collaborate with their students in real-time. This better engages students learning from home and creates stronger connections.
Sharing Content – From Anywhere
Interactive whiteboards enable both students and teachers to share all manner of content, no matter where everyone is located. Teachers may be in the classroom or at home; some students can be physically at school and others learning remotely. It simply doesn't matter. By connecting interactive whiteboards via the Internet, content is shared instantly to all participants in all locations.
This content sharing is multi-directional. It's not just teachers sharing content; students can share their work and comments with their teachers and with other students. Multiple participants can share content at the same time, as well.
Most interactive whiteboards enable sharing from a variety of sources – video, images, drawings, and more. Content can come from individuals' computers or from anywhere on the Internet.
Recording and Sharing Lessons
Real-time interaction is important, but not all students will likely be available at the same time as their teachers. For this reason, interactive whiteboards enable recording of all lessons. These archived lessons can be shared and viewed at the students' convenience.
This ability to facilitate both synchronous and asynchronous learning meets the evolving needs of both teachers and students. Distance learners can access lessons on their schedules, and teachers can post lessons in the evening or on weekends. Recorded lessons can be easily shared via an emailed link.
Connecting with Other Devices
Interactive whiteboards can easily connect to other devices used by teachers or students. Students can access lessons via their computers, tablets, and smartphones, and use those devices to interact with the whiteboard. Both teachers and students can connect their devices to printers to print out lessons – or, in the case of teachers, to scan pictures and other content to display on the whiteboard.
The ability to print whiteboard content enables teachers to share lesson plans and other materials with their students easily. Students print all materials on their own home printers, eliminating all need for physical contact.
Improving Student Performance
Studies have shown that the use of interactive whiteboards improves student performance. A report from the Marzano Research Library showed that interactive whiteboards contributed to a 16 percentile point gain in student accomplishment. That is, a student performing at the 50th percentile would likely move to the 66th percentile using interactive whiteboard technology.
Let Doing Better Business Help You Take the Next Step in Education Technology
Distance learning is here to stay, and schools need to do everything possible to improve the process for both teachers and students. Interactive whiteboards help provide stronger connections and improved performance. Doing Better Business offers a variety of technology to help improve distance learning, including interactive whiteboards from Ricoh. Our expert staff can work with your school to choose the right technology for your teachers and students – and help everyone get through the COVID-19 crisis.
Contact Doing Better Business today to learn more about interactive whiteboards and other education technology