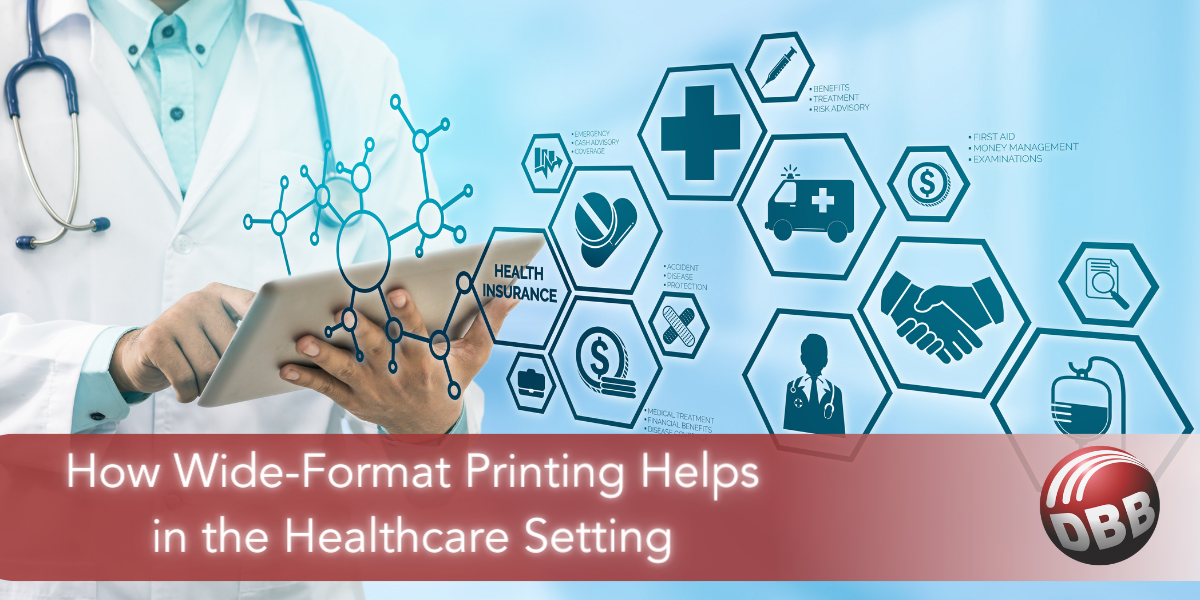 If you work at a healthcare organization and you are working on your medical office supplies list, you might consider adding wide-format printers to your queue. Wide-format printers are extremely versatile and can help with a variety of hospital and healthcare tasks. Whether you need posters printed or other signs to direct patients, wide-format printers can be an essential tool for healthcare organizations of all sizes.
What is Wide-Format Printing?
Wide-format printers range in size and capabilities, but they are any type of computer printer that has the capability of printing 18" and above in print width, up to 100" for super-wide printing. They can be more affordable than you might think, and they are available as multifunction printers (MFPs) to offer scanning, copying, and fax capabilities in addition to printing.
With the best, top-of-the-line modern wide-format printers, your healthcare organization will also benefit from additional features such as access control, which keeps documents secure and accessible only to the right roles. With modern security, printers are kept safe from hacker intrusion and other violations that could undermine HIPAA privacy compliance.
Data protection also adds a level of security, so sensitive information is erased from printer hard drives as needed.
And, with print visibility, your team can keep track of how much is printed and by whom to reduce unnecessary printing and paper waste.
Wide-format printers can also be used for your regular printing needs, so you do not necessarily need a separate printer or MFP to be able to print large posters and collateral.
Why Wide-Format Printers Should Be on Your Medical Office Supplies List
A comprehensive medical office supplies list would not be complete without wide-format printers. Wide-format printers also come in the form of multifunction printers (MFPs) that also offer scanning, copying, and faxing. Wide-format printers have a number of uses and benefits.
Print Projects of Various Sizes
Wide-format printers are useful for engineering departments of hospitals to print out blueprints and schematics. They can be used to generate signage, wall and floor decals, and other larger printer projects. Here are just a few of the types of signs and items that can be printed using wide-format printers:
Scheduling information

Disease-prevention posters

Eye charts

Hospital floor plans and directions

Evacuation routes and instructions

Promotions for coming events and lectures

Decorations for holidays, special celebrations, and for pediatric wards
With the ability to print custom posters in full, vibrant color, wide-format printers can be a huge boon for healthcare organizations that want to keep patients updated on the latest in medical advice and technologies.
Save Time and Money
Hiring out print jobs to an outside print house can take time and money. By printing items inhouse rather than using third-party vendors, hospitals and healthcare clinics can realize significant cost reductions while speeding up the printing process. Getting access to a top-notch wide-format printer or MFP is actually within the reach of even the most strict budgets, thanks to printer leasing programs and managed print services solutions, which negate the need to spend a lot of money upfront on a printer.
Quickly Adapt to Events
When the COVID-19 coronavirus pandemic hit in early 2020, nobody was prepared. Hospitals had to scramble and quickly come up with procedures and workflows to keep patients and staff safe. Having inhouse wide-format printers allows hospitals to easily and quickly adapt to major events such as a novel pandemic.
Public instructions for patients and the public can be quickly printed up, along with signage to indicate any traffic flow modifications in hospital hallways.
Choosing the Right Wide-Format Printers for Your Healthcare Organization
No matter how large or small your healthcare organization is, you can enjoy the benefits of wide-format printers. Costs to purchase a wide-format printer can start from under $100 for a low-end, commercial consumer model. Wide-format printers can be bought outright or leased to make it easy on the budget.
So, what type of printer or MFP should you add to your medical office supplies list? As experts in multifunction and wide-format printers, we can help evaluate your wide-format printing needs and recommend the right solutions for your organization. A managed print services solution is also an option, where we would work as your partners and manage your printer fleet from top to bottom. This brings additional benefits of security, visibility, and waste reduction.
We help you do better business. DBB has a quality selection of wide-format printers for healthcare providers. For help with all your printing needs, contact us today.